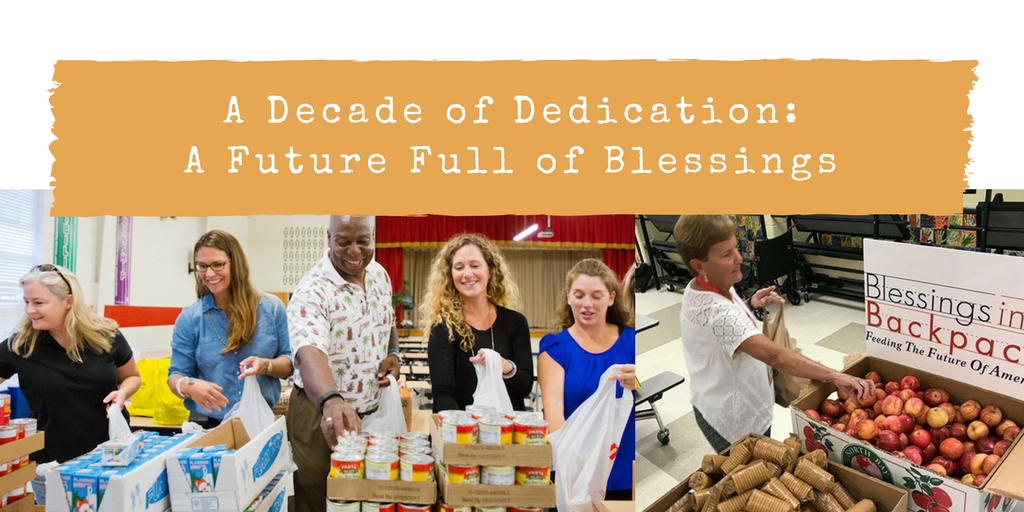 About the Conference
Come experience the excitement of the Windy City and join us in Chicago on June 24–26, 2018, for A Decade of Dedication: A Future Full of Blessings—Blessings in a Backpack's inaugural National Volunteer Conference. It's sure to deliver.

Volunteers have been making an impact in the lives of children, families, and communities since Blessings in a Backpack began providing weekend nutrition for children in 2008. The National
Volunteer Conference brings program coordinators and volunteer teams together with peers across the country to gain and share knowledge, resources, and connections needed to manage and
expand local programs. Our conference planning team and PC Advisory Committee are working
to develop a conference experience that will invigorate your program and inspire community
commitment to stamp out hunger.
There is no cost to attend the conference, however, you are responsible for covering your travel and hotel costs. Discounted room rates are available at the Holiday Inn where the conference is taking place.
Your conference registration includes:
• Exhibit area
• Networking opportunities
• Keynote speakers
• Goodie bags, freebies, and vendor exhibits
• Conference meals: breakfast, lunch, dinner, and welcome reception
• An opportunity to connect with program coordinators and volunteers nationwide
Costs to you include:
• Discounted room accommodations:  Two Double Beds or One King Bed: $179/night + taxes at the Holiday Inn Chicago Mart Plaza River North if booked by June 4. Book your stay now.
• Airport shuttle/Uber/taxi to get to hotel: Between $25 and $40 one-way
• Parking fee: $35 per night with in-and-out privileges (price is subject to change)
• Your mode of travel (plane, train, or car)
• Local attractions
Click here for hotel and travel information.
Have questions? Download our conference FAQ.