By an anonymous volunteer, Allen D. Nease High School, Florida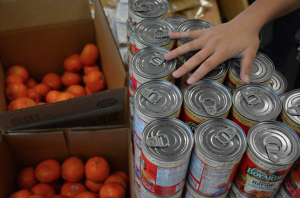 I am a junior at Allen D. Nease High School in northeast Florida. Like most kids who live here, I grew up enjoying our sun-soaked beaches and historic landmarks. A thriving tourist industry promotes great restaurants, quaint stores and a non-stop flurry of activities. It is not surprising then, that an issue that is endemic to several communities across the country gets hidden. Beneath this seemingly idyllic existence, our county still struggles with hunger.
I remember going to elementary school and often wondering why some of the kids at my school came to class starving. Naively, I assumed that they had just not eaten breakfast because they were running late. I was certain it was merely an issue of waiting until lunch break when they could dig into a meal. No one really talked a great deal about it and life went on.
A few years later, when I was a sophomore at Nease High School, I found out about a fundraiser that my school was hosting to raise money for the Blessings in a Backpack program we had on campus. I had heard about Blessings, but didn't really know what it was about. I was humbled to learn that students in my high school packed food for kids in my old school! I knew right away that I had to be part of this project.
I learned that a large percentage of kids at the school depended on the free and reduced price meals at school during the week, but often had no reliable sustenance over the weekend. Naturally, this affects their ability to focus on schoolwork. Learning about right angles and the War of Independence pale in comparison to a growling belly. Blessings fills that vacuum by sending kids home with enough food to tie them over until Monday. Once at school, there are other resources to help them.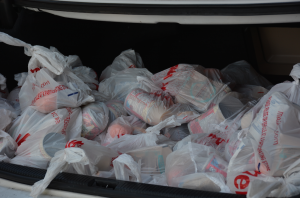 Nease began packing food a few years ago. Our team took over last year from two great seniors who orchestrated the purchase, packing, and delivery of food for 200 students every week. We meet every Thursday. My classmate transports the food to school, our Blessings group of about ten students makes short work of packing over 200 bags, and I deliver it the next day. Every now and then, a kid who receives a Blessings bag will walk past as I wheel the food in. The excitement on their faces really puts things into perspective; this is the joy more fortunate kids experience when they see a new toy. The glaring unfairness of the situation is hard to digest.
Circumstance should not dictate a kid's future. Likewise, hunger should not be the cause of a person's inability to succeed.
There is a reason I choose to stay anonymous. To start with, I am part of a team; this story speaks for all of us. More importantly, I don't believe one needs recognition to validate a service. Too often, you might see someone participate in an activity so they get a write-up in a newspaper, or get to be on a board or to embellish a resume for a college application. It's time we involved ourselves in the community simply because we care about another human being.
For the skeptics, consider this; we are only creating a better future for all of us when we have a community where everyone is given a fair opportunity to thrive. In this case, it's about helping a child beat hunger, a small service for a life-changing outcome. Whether it's monetary help (a mere $100 feeds a food insecure student for a whole year) or the ability to fundraise, pack or deliver, we can do this. We must.