Blessings in a Backpack recently welcomed three new members to its Board of Directors. Let's get to know them.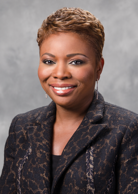 Ubong Ituen is a marketing professional with a 25-year track record of building brands and in the process creating value and measurable impact on corporations – most recently as vice president of marketing for McDonald's USA. She lives in the Chicagoland area and has a passion for service, supporting many charities, we're enthusiastic that she's bringing her many talents to our Board!
We asked Ubong:
Why is giving back important to you?
Early on, my parents instilled in me the notion that to whom much is given, much is required. I have been afforded many opportunities and as such, I believe it is my responsibility to give back. For me, serving those less fortunate and marginalized is not only the right thing to do, but it is also something that gives me great satisfaction.
What made you want to get involved with the Blessings in a Backpack Board?
I was very surprised to learn about the magnitude of child food insecurity in this country. The mission of Blessings in a Backpack is what really inspired me to want to get involved with the board.
What do you think is unique about the work they do?
The simplicity and focus of the organization's goals.
What are you most looking forward to through your work with the Board?
I am most looking forward to increasing the impact of our efforts such that we are able to feed significantly more children.
Learn more about our new Board members Paul Colangelo and Ana Dutra.