Chicago Bears' Kyle Long Opens New Playground & Feeds 125 Kids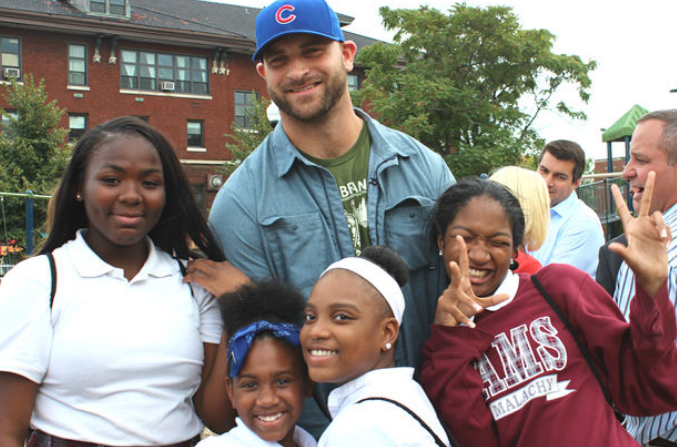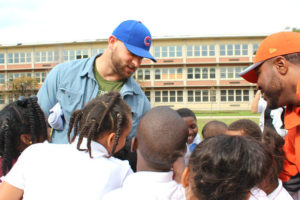 By Stephanie Lulay — Kids at St. Malachy School on the Near West Side had a special guest crash their recess at Starr Park on Tuesday — Chicago Bears offensive lineman Kyle Long.
Long's Dreambuilders Foundation partnered with UnitedHealthcare to renovate Ellen Gates Starr Park, located at West Washington and North Oakley boulevards in West Haven. The park doubles as a playground for kids at nearby St. Malachy School.
In May 2015, UnitedHealthcare donated $22,000 to the Dreambuilders Foundation to help renovate and move the playground to the southeast corner of the park, opening up field space for St. Malachy students to use.
The playground is used by about 250 St. Malachy students, said Dionte Mandeldove, athletic director and gym teacher at the Catholic grade school. The expanded field will allow the school's lacrosse team to now play at the park.
"This is big," Mandeldove said. "Just to have somebody in a pro environment to come out and say that you believe in what they are doing, and giving back to the community. They have someone that's backing them up."
At the ribbon cutting Tuesday, Long, a three-time Pro Bowler, took turns taking "selfies" and played flag football with the kids.
The park renovation gives the students "a fun, new place to play and stay active," he said in a statement.
The donation also supports the school's Blessings in a Backpack program, which will provide bags of nutritious food to 125 students every Friday afternoon, ensuring that these children have healthy food during the weekends.
Read more at dnainfo.com.