Dale Earnhardt Jr. packs backpacks at North Carolina school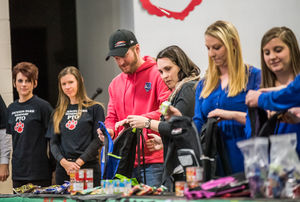 Dale Earnhardt Jr. grinned and waved as he hopped up onto the stage amidst cheers and applause.
Many of the gathered Jackson Park Elementary School students waved back, some craning their necks and others leaning up on their knees to get a better look. Earnhardt paused, scanning the crowd of little faces that just as easily could have included him many years before.
Jackson Park's proximity to Earnhardt's boyhood home struck a chord with him, and the racecar driver has worked through his foundation to donate more than $127,000 to the school over the past few years, primarily through the Blessings in a Backpack program.
"The Blessings in a Backpack we've been doing for several years," the driver said. "It's fun to come out and be around the kids. They're really inspirational and empower us. It's a great experience for me; I could do this every day."
Read more at independenttribune.com.