Think back to when you were a child. Most likely, you didn't have to worry about being hungry. But for 13 million children in the United States, they have to think about it — because there could be
little or no food at home and hunger doesn't take the weekends off.
It is our responsibility, as a society, to make sure these children have the tools (i.e., food) they need to be successful. That why Blessings in a Backpack exists. We bridge the weekend hunger-gap
so children can return to school on Monday mornings nourished and ready to learn and succeed.
This Valentine's Day, let's feed hearts and bellies together!
Make your child's Valentine's Day party more than candy and cards and join us in the movement to end childhood hunger. Not only will you help a child in your community, but you'll teach the children you love the importance of giving back.
Host a 'Feeding Hearts and Bellies' Valentine's Day Party
The tools you'll need:

Step by step:

1. Go grocery shopping or ask parents to send in food donations! Select 5–6 items from our
suggested shopping list to buy. Don't forget the gallon size storage bags!
2. Bring the food and bags in for your Valentine's Day party. Organize the food by type and set it up so children can grab a bag and pack, like the picture below.

3. Spend the afternoon with your kids filling the bags with weekend food to donate to a school in your area. Click here to find a school near you.
4. Cut, color, and personalize these adorable printable cards to include in the bags.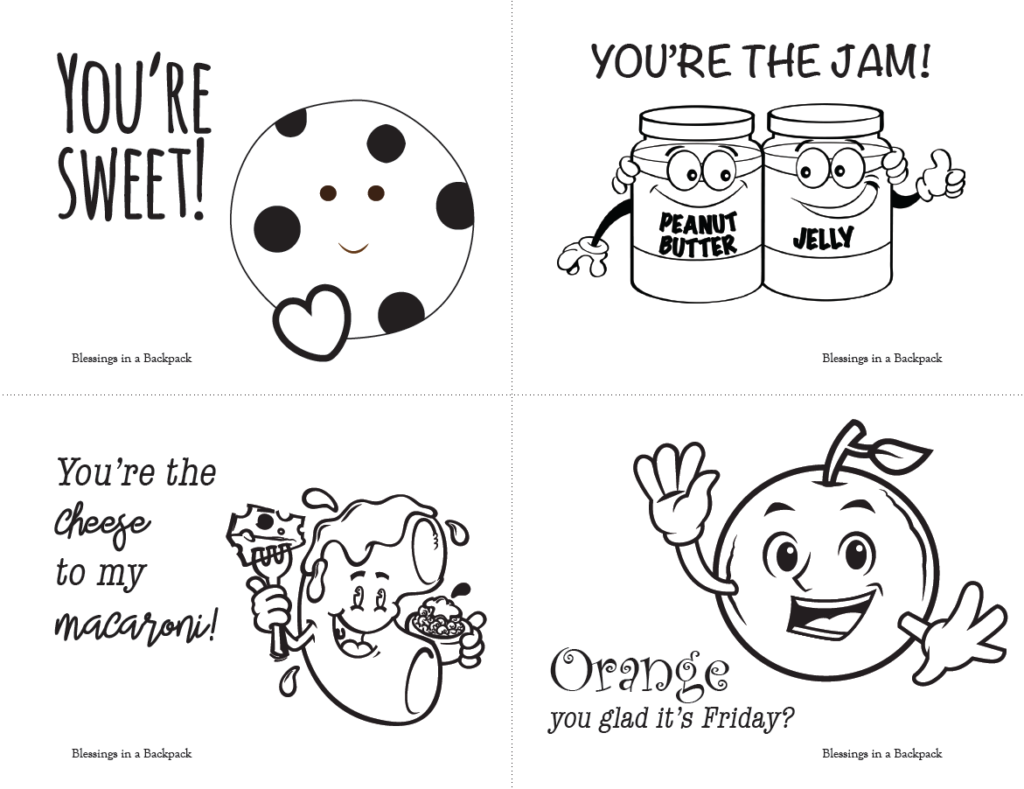 Print your FREE printables here.
4. Send home goody bags with info cards for parents that explains the activity and Blessings in a Backpack. Print the info cards here.
5. Take pictures and post them on social media. Tag us on Instagram, Facebook, and Twitter. Use #FeedingHearts.
Of course, you can always donate to help us feed a child.