Story via news-sentinel.com. Photos by Lisa M. Esquivel Long.
Downtown Fort Wayne was in a sugar buzz Saturday at the inaugural Fizz Fest 2018 – Summit City Craft Soda Festival & Winter Carnival at USF Performing Arts Center.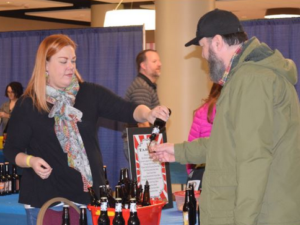 The festival drew those interested in trying some of the many glass-bottled, cane sugar-sweetened craft sodas available for tasting with names such as Werewolf Howling Ginger Beer, Brownie Caramel Cream Root Beer and Dang! Italian Cherry Soda.
The event was scheduled for 10 a.m.-6 p.m., but by 2 p.m. several of the pops were gone for tastings and the sales table was pretty depleted. A few cartons of cherry-flavored Cheerwine and other brands were brought in to quench attendees' thirst for the craft sodas.
The festival, organized by Roger Grabner, owner of SummitCitySoda.com, cost $5 for admission that included 10 tickets for tastings or carnival games or $20 for a wristband for unlimited tastings. Part of the money went to Blessings in a Backpack, which sends home students who receive free or reduced lunch at school home with backpacks filled with food for the weekends and holidays.