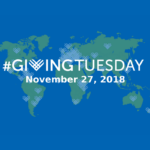 Blessings in a Backpack is participating in Giving Tuesday on Nov 27, 2018. What's Giving Tuesday you might ask? This national day of giving, the Tuesday after Thanksgiving, is a day dedicated to engaging in charitable activities that celebrate and support nonprofit organizations worldwide.
Learn more about Giving Tuesday here.
This year, our campaign is Blessings in a Backpack from the perspective of a backpack.
We've created eight backpack images with personalities to match their kids and stories to go along with them + we've created two backpacks and stories from the perspective of a mom and dad. We hope you'll pick a few backpacks and stories that you like, share on social media, and participate in Giving Tuesday too.
Our goal at National is to raise $18,000 — enough to help provide more than 6,200 hunger-free weekends. We invite you to set a Giving Tuesday goal for your program and promote it on social media. Donate through the Facebook donate button and donations are eligible for a match (it goes very quick, so donate early!) If you don't have a program website and donate page, tell your supporters to go to blessingsinabackpack.org/donate-to-a-specific-program-or-school and type your program's name in the "Designation" box.
We have a few fun giveaways planned to thank our donors for being a part of our Giving Tuesday. Information on that will be emailed the week of Nov. 19,2018 and on Nov. 27, 2018. We'll post the info to the PC Facebook page too, so be on the lookout!
Use the hashtags: #Blessingsina🎒 #GivingTuesday #BlessingsinaBackpack
Cover Photos:
Backpack stories:
Click here to download the 10 backpack stories. The backpacks are all named invidiually (for example, Ballerina, Scout, Scientist, Mom, Dad, etc.) to coincide with the backpack images below.
Example story:
I am delighted to share that my kid Annie made the school volleyball team! The coach credits her hard work and dedication. But you know what? I credit the Blessings food that Annie takes home on Fridays. Because I know that kids need food to grow big and strong … and to dominate on the volleyball court. Today you can help give kids the advantage. Donate to feed the kids this weekend.
Backpack Images for Facebook & Twitter:
Ballerina
Scout
Athlete
Scientist
Good Grades
Future Doctor
Man of the House
Artist
Mom
Dad
Backpack Images for Instagram:
Ballerina
Scout
Athlete
Scientist
Good Grades
Future Doctor
Man of the House
Artist
Mom
Dad
Samples of the creative: