PGA TOUR Volunteer Appreciation Program Sponsored by Myrbetriq® (mirabegron) Teams with Blessings in a Backpack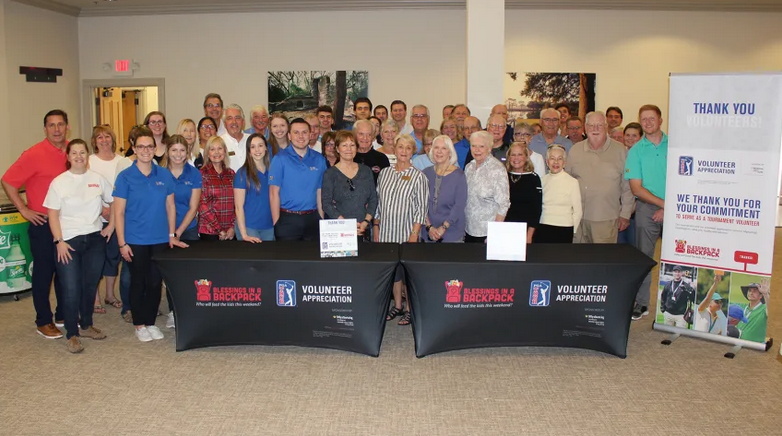 As part of a season-long initiative, the 2019 PGA TOUR Volunteer Appreciation Program sponsored by Myrbetriq® (mirabegron) teamed up with the non-profit Blessings in a Backpack to help ensure elementary school children in tournament communities nationwide do not experience food insecurity on the weekend. Tragically, an estimated 11 million children in the U.S. do not know where their next meal is coming from; and while some of these children will receive subsidized school lunches during the week, they may still experience severe hunger on the weekends.
To help alleviate this national epidemic, volunteers at 23 PGA TOUR tournaments pitched in by packing backpacks full of kid-friendly and nutritional food for children who might otherwise go hungry in the local community. Thanks to support from Astellas Pharma US, Inc., each team of tournament volunteers packed 800 backpacks, each providing one child with enough food for the entire weekend. In all, tournament volunteers packed a total of 18,400 bags of weekend food across all 23 events. At the completion of each packing event, the backpacks were distributed to area elementary schools by Blessings in a Backpack. In addition, Astellas made a $5,000 donation to Blessings in a Backpack at every participating tournament, helping to ensure that this extraordinary organization can continue its mission of eliminating childhood hunger.
"We are incredibly grateful to Astellas Pharma US, the PGA TOUR, and tournament volunteers for their generous donation of time and resources," said Blessings in a Backpack CEO Brooke Wiseman. "Volunteerism is the backbone of our mission, and we couldn't do this without each and every person involved. Beyond improving the health and well-being of at-risk children, every backpack lets these kids know that someone cares about them…and that is a priceless gift."
Since becoming an Official Marketing Partner of the PGA TOUR in 2013, Astellas Pharma US has lent its support to community impact programs conducted by PGA TOUR tournaments nationwide, including the TOUR's Volunteer Appreciation Program – an initiative designed to recognize and reward the passion and commitment of tournament volunteers nationwide while giving back to charitable causes in the local community.
"Astellas is proud to partner with the PGA TOUR, its tournaments, players and volunteers to give back to worthy organizations such as Blessings in a Backpack," said John Colucci, assistant director of urology marketing at Astellas. "We share the TOUR's deep commitment to improving lives and enriching communities, and Astellas looks forward to continuing to expand the Blessings in a Backpack program at tournaments across the U.S. in 2020."
Astellas Pharma US, Inc. a pharmaceutical company and manufacturer of Myrbetriq (mirabegron), is dedicated to improving the health of people around the world through the provision of innovative and reliable pharmaceutical products. For more information, visit astellas.com.