Doing Good is a Family Affair in Houston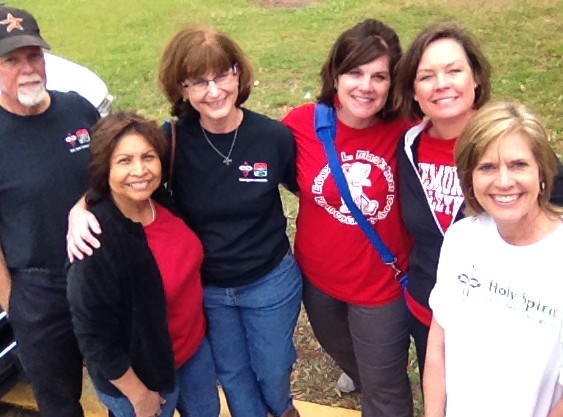 Melissa Peter, along with her husband Kevin and sons Jacob, Caston, and Grayson started the Bayou City Blessings in a Backpack program in 2012. The program started by feeding 60 children at a local elementary school and has now grown to feeding 700 children at two schools this year.
We sat down with Melissa to talk more about her participation with Blessings in a Backpack and the impact it's had.
Why did you decide to get involved with Blessings in a Backpack?
While participating in a women's prayer group in Houston's inner city neighborhoods, I learned more about the "food deserts" that are prevalent throughout our city. One of our schools is located in a USDA-defined food desert where families face the challenges of having little-to-no access to fresh food or grocery stores due to lack of transportation and resources.
As a mother, I worried and wondered about how these mothers were feeding their children. At the time, I had no idea how to affect change, and left that group feeling both moved to act but paralyzed at how or what to do. Thank goodness I came to know about Blessings in a Backpack just a few months later!
Have you learned any lessons?
When we first implemented the program, we sought out mentors in other organizations doing work in the inner city. One profound piece of advice was "be consistent." We came to learn that many residents in the inner city came to expect organizations to either do one big activity and never return, or to promise programming that went left unfulfilled. It was our vow to be consistent and to show up every week… the three-year commitment that Blessings in a Backpack asks helped create the framework for that consistency.
That consistency has made the biggest impact on the program volunteers and the community alike. Kids can count on our program to provide weekend food, and aren't left wondering "will they show up?"
Just after we started the program, I arranged with the principal to make our delivery after lunch, rather than our usual morning delivery, so that my son could help deliver on a day that was "early release" from his school. When we arrived on campus, we were met with tears, restlessness and distress, as reported to us by the teachers and administrators. The kids had come to expect us at a specific time, hearing our carts and seeing us move around campus from their classroom windows, and when we didn't arrive as usual, they became fearful that "Blessings wasn't coming" and that they wouldn't have their weekend food packs. It was then that I fully came to understand that "consistency matters." Since then, we have never altered our delivery schedule!
Do you have any tips for other Blessings in a Backpack program coordinators?
In Houston, we experience sudden and sometimes extreme weather days such as flooding and/or occasional ice, which requires schools to close unexpectedly. These few years have taught us the value of always having "emergency" food packs, or "meals ready to eat" (no heat or preparation required) on hand that can be delivered quickly and easily with little notice. When schools have announced sudden closures due to inclement weather, we have been able to deliver bags days earlier to insure children don't go without, especially when the weather forces families to stay indoors and away from schools and their assured meals.
What keeps you inspired through your work with Blessings in a Backpack?
We have received notes and encouragement from students, teachers, administrators and parents. Here are a few to share:
"It makes me very happy to get Blessings in a Backpack. One time my mom cried because she was happy that we had some food now. Blessings in a Backpack always saves our lives."
—2nd grade student

"I am blessed to get a blessing in a backpack. It helps out my mama every weekend when we don't have enough to eat."
—2nd grade student

"I like to get the food so I can share it with my baby sister."
—Kindergarten student

"Yay, for our bags on Fridays, I can have food while my Mom is at work."
—5th grade student
Blessings in a Backpack is grateful for the work and dedication of the Peter family and our entire network of volunteers across the country. Click here to learn how to start a program in your community.