Not All Superheroes Wear Capes . . .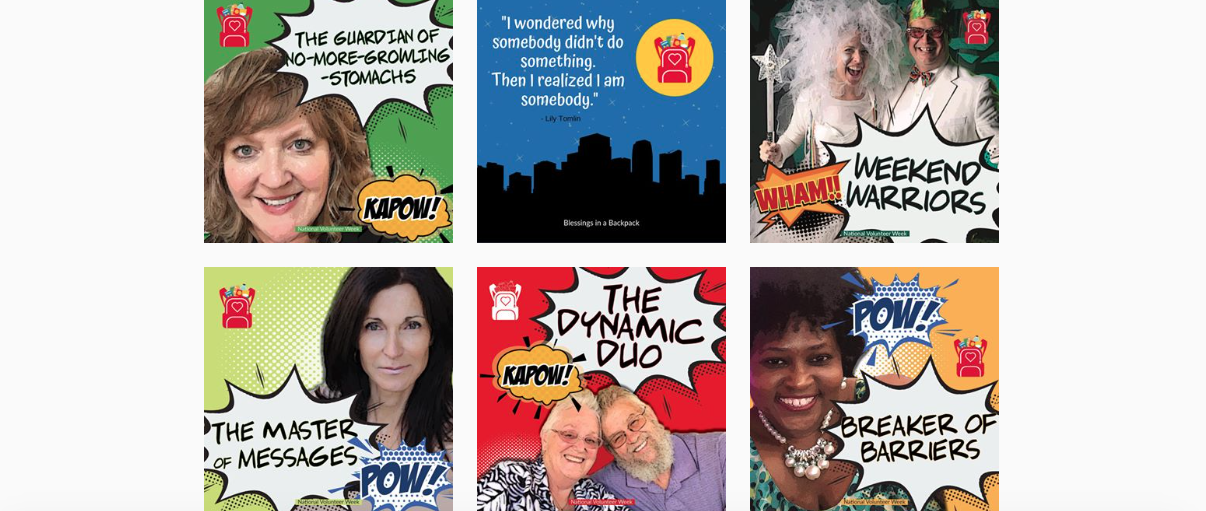 Written by Shayla Alvey
Superheroes are known for making a positive difference in the world, and so are Blessings in a Backpack volunteers. During National Volunteer Week in April, we are recognizing and transforming our volunteers into superheroes, to express our appreciation of their hard work and support to feed hungry kids in their communities on the weekends.
More than 16,000 volunteers across the United States are dedicating their time to send backpacks full of food home with kids every Friday. They are mothers, fathers, teachers, leaders, students, and so much more. They work in their communities, churches, and schools. They are strong, committed leaders who are fighting to end childhood hunger in their communities. They find that feeding children is a reward in itself and do not expect anything in return for their time and work. Their passion and drive are changing the lives of kids. Their support and dedication are the reason for the success and growth of Blessings in a Backpack. None of what we do would not be possible without each and every one of them.
For National Volunteer Week, we highlighted many of our amazing volunteers with captions, quotes, and images, which can be found on Instagram and Facebook. We asked them why they're passionate about fighting childhoood hunger in their communities. Here's what they said:
"I see the direct impact this food carries to them and their families and how it helps build opportunities for them." -Virginia Troutman, Charlotte, N.C.

"We are doing so much more than feeding the children and keeping them from going hungry on the weekend. I think we are guaranteeing their future because most of the kids that we are feeding will stay in the community. It feels like family that way."
— Wendy Griffin, Guntersville, Ala.

"We realized that kids in our daughter's own class were likely suffering from weekend hunger, and many more were at risk." — Julie and Brian Howard, Pomeroy, Ohio

"Many students at my school only eat at school. Weekends can be very traumatic due to hunger. Blessings in a Backpack removes that barrier. Every student at Engelhard Elementary receives their Blessings [bag of food] every Friday and the smiles they give you is enough." — Regina Jackson-Willis, Louisville, Ky.

"My passion remains for feeding kids, but now the motivation comes not from the "how" questions but the "what if" questions created from our beautiful community of volunteers. "What if" we could feed every hungry child?" — Melissa Peter, Houston, Texas
All Blessings in a Backpack volunteers play an extraordinary and important role. They use their strong leadership, teamwork skills, and resources to work together to make it all happen. At Blessings in a Backpack, we are grateful for all of the amazing people who help us with our mission to end childhood hunger on the weekends. Our volunteers are the real superheroes!