2017 National Blessings in a Backpack Day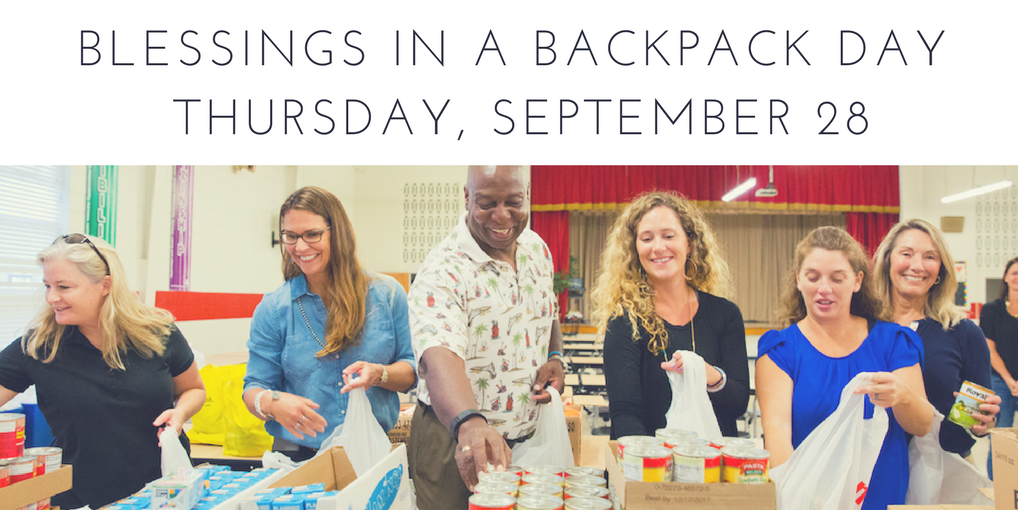 September 28, 2017
As a result of a resolution passed at the U.S. Conference of Mayors meeting in June 2014
—designating the third Thursday of every September "Blessings in a Backpack Day"—the event will return this September for its fourth year.
In observance of Rosh Hashanah, this year's National Blessings in a Backpack Day activities will take place the following week, on Thursday, September 28. Mayors nationwide will join local Blessings in a Backpack volunteers in an effort to combat childhood hunger in the U.S.

Follow us on social media to stay updated on all the great events taking place across the country! Use hashtag #BlessingsDay2017 when posting stories of events in your area!
2017 National Blessings in a Backpack Day participating cities:
(List will be updated as events are confirmed)
Alexandria, VA
Arab, AL
Barrington, IL
Belpre, OH
Bluefield, WV
Canonsburg, PA
Canton, OH
Center Line, MI
Chicago, IL
Cincinnati, OH
Columbia, MD
Columbus, OH
Coram, NY
DeForest, WI
Denver, CO
Effingham, IL
Evanston, IL
Fairfax, VA
Fitchburg, MA
Fort Myers, FL
Fort Wayne, IN
Frederick, MD
Fredericksburg, VA
Fulton, NY
Galesburg, IL
Gillette, WY
Glendale, AZ
Glendale Heights, IL
Grand Ledge, MI
Green, OH
Green Bay, WI
Houston, TX
Hulett, WY
Jacksonville, FL
Jacksonville Beach, FL
Joppa, MD
Los Angeles, CA*
Louisville, KY
Mount Washington, KY
New Albany, IN
Newark, NY
Orlando, FL
Oswego, NY
Phoenix, AZ
Richmond, VA*
Rochester Hills, MI
Salisbury, MD
San Antonio, TX
Sanford, FL*
Spartanburg, SC
St. Augustine, FL
Sundance, WY
Tempe, AZ*
Three Oaks, MI
Traverse City, MI
Tucson, AZ
Wabash, IN
Waukesha, WI
Wilkinsburg, PA
*Cigna packing
Highlights from past National Blessings in a Backpack Day: