American Honda Finance Corporation Joins BIB to Provide 6,000 Hunger-Free Weekends for Children in the USA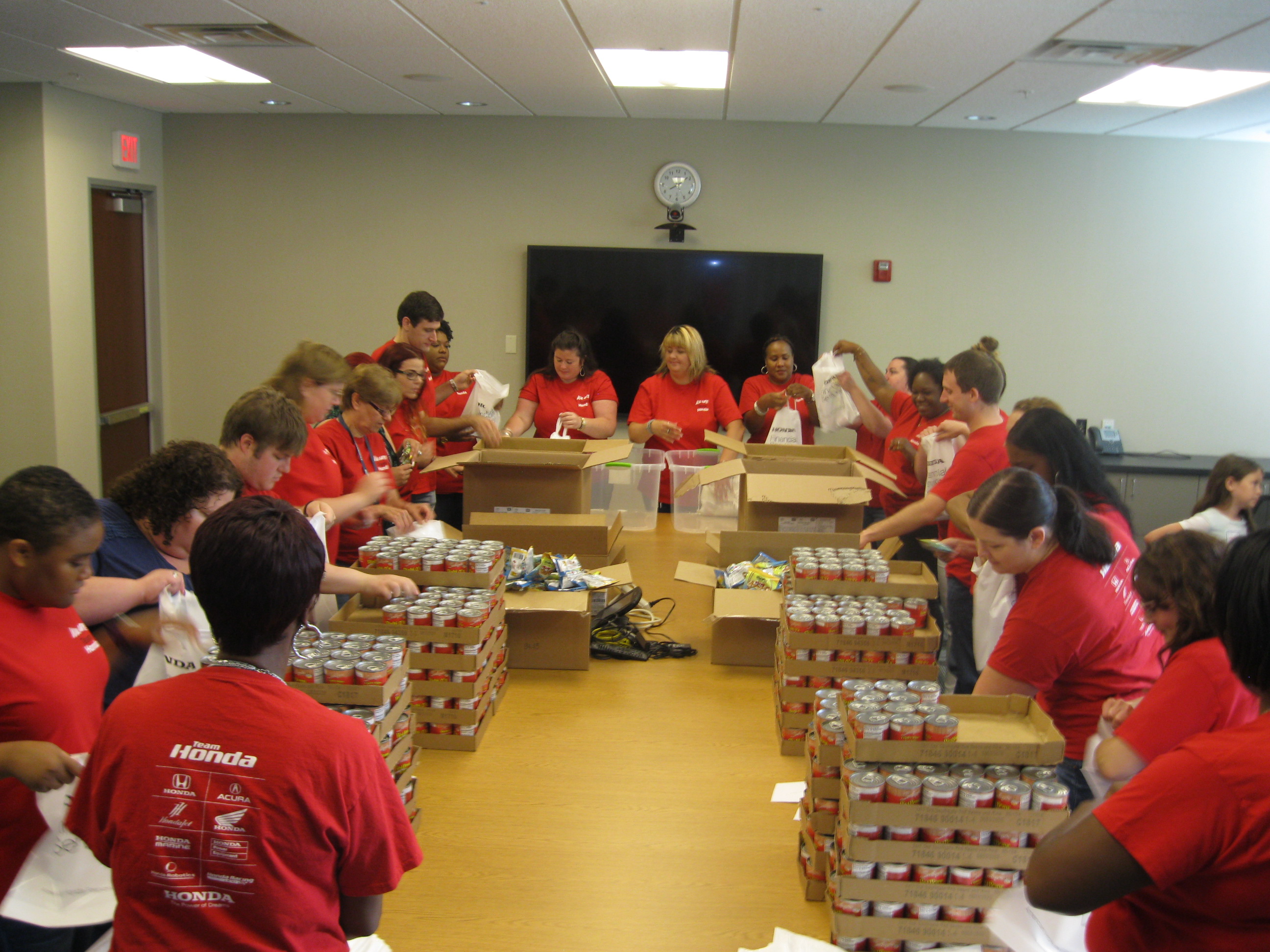 Packing events across the country are part of AHFC's involvement in the Team Honda Week of Service
TORRANCE, Calif., June 15, 2017 — American Honda Finance Corporation (AHFC) employees from across the country will volunteer with Blessings in a Backpack to pack 6,000 bags of food for children at risk of going hungry on the weekends.
The packing events will take place during Team Honda Week of Service. AHFC employees from 10 regional locations (below) and its Corporate Office in Torrance, Calif., will participate.
• Alpharetta, Ga.
• Charlotte, N.C.
• Elgin, Ill.
• Holyoke, Mass.
• Irving, Texas
• Los Angeles, Calif.
• San Ramon, Calif.
• Torrance, Calif.
• Wilmington, Del.
The food will be distributed to local elementary schools and non-profit partners, including The Boys and Girls Club and Salvation Army, for children to take home and eat while they are not at school.
"We are so thankful to be a beneficiary of Honda's national week of service,'" said Brooke Wiseman, CEO, Blessings in a Backpack. "It's because of partners like AHFC that we can continue with our mission to end childhood hunger."
"Honda for a long time has been driven by doing service in the community. It's part of our DNA," said David W. Paul, senior vice president, AHFC. "There are projects and activities going on [this week] and each region is doing significant efforts for their local community. We are proud to support Blessings in a Backpack."
In its second year, the Team Honda Week of Service is an opportunity for all Honda companies throughout North America to come together and volunteer at the same time. It is an opportunity for Honda employees to work together to make a difference in the communities in which they live and work.
~ ~ ~
About American Honda Finance Corporation:
American Honda Finance Corporation (AHFC), operating as Honda Financial ServicesSM and Acura Financial Services®, helps to satisfy the financing needs of consumers of Honda and Acura products including automobiles, sport utility vehicles, minivans, motorcycles, powersports products, marine engines, and power equipment. For more information visit hondafinancialservices.com or acurafinancialservices.com.