Blessings in a Backpack volunteers receive "Friend of Education" Award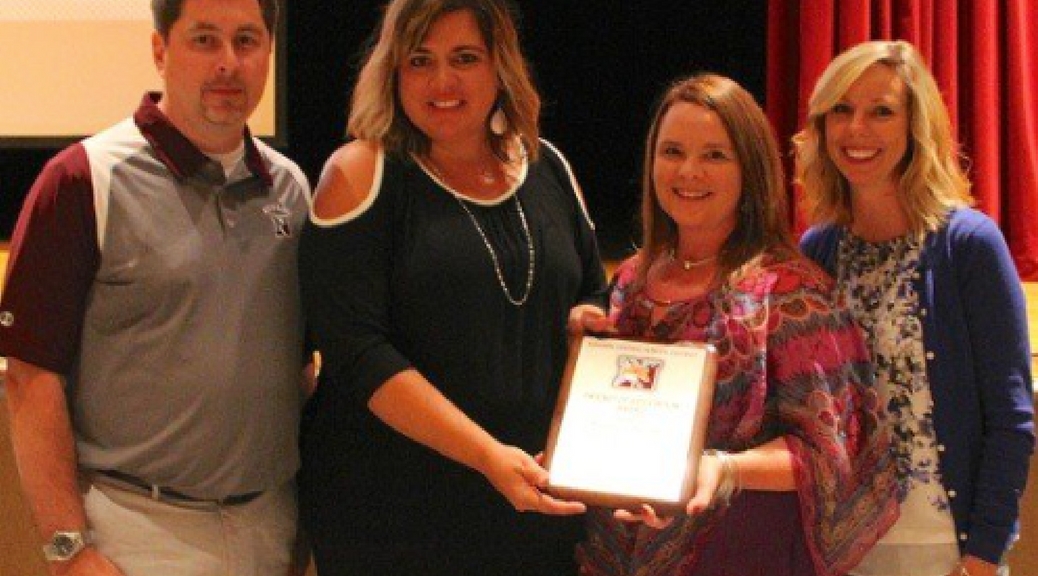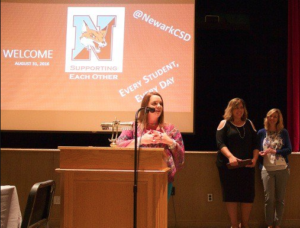 Some 6,000 bags of food were assembled by six women during the 2015-16 school year so that 180 eligible students from Kelley, Perkins and Lincoln schools could put them into their backpacks Friday afternoons to ensure they wouldn't go hungry during the weekend.
For this amazing feat, and their pledge to pack food bags for up to 205 students a week during the upcoming school year, the Blessings in a Backpack volunteers received the Newark Central School District Friend of Education Award at a recent early morning assembly.
The award is given annually to an individual, organization or business that goes the extra mile to support Newark education. Superintendent Matt Cook said he was very pleased to be able present the award to the Blessings in a Backpack volunteers because these dedicated and committed women far exceeded the criteria for the award.
Cook noted that each year in the process of deciding what individual or organization should receive the award there are many names to choose from. This year, when various possible award winners were being considered, those involved in the decision without hesitation just said "Yep" when the Blessings in a Backpack volunteers were mentioned.
"It was a very easy decision this year,'' Cook said, noting the volunteers plan to pack 8,000 bags this year.
Cook told Tanya Hasseler, who spearheaded the Newark program, and Chrissie Kent and Jill Nittolo that he was thrilled to present the Blessings in a Backpack volunteers with the award. Volunteers Melissa Kelley, Kelli Ransco and Robin Granger were unable to attend.
Speaking on behalf of all the volunteers, Kent thanked Cook for allowing them to bring the program into the Newark schools.
"It wouldn't have happened without your support," she said and also thanked the NCSD staff for its support of the program.
The inscription on the award reads: "For your continuous support of the students and families of our district. You are such a wonderful asset to our school and community. Your organization provides food to many of our families, who might otherwise go hungry on the weekends. We appreciate your help and support."
Before the award was presented, Hasseler said 25 more students each week will received food bags in 2016-17 thanks to a grant the local Blessings in a Backpack program is receiving from the Dale Earnhardt Jr. Foundation.
Appreciative of the Friend of Education Award the local program was about to receive from the school district, Hasseler said it was nice, but the volunteers were not expecting any recognition for their work.
"All of us were surprised, but we don't do this for rewards,'' Kent said.
Nittolo said the volunteers are hoping the recognition will help raise awareness about the program and the need that exists locally.
Read more from waynepost.com.