Bobby Nichols Fiddlesticks Charity Foundation Donates Nearly $150K to Blessings in a Backpack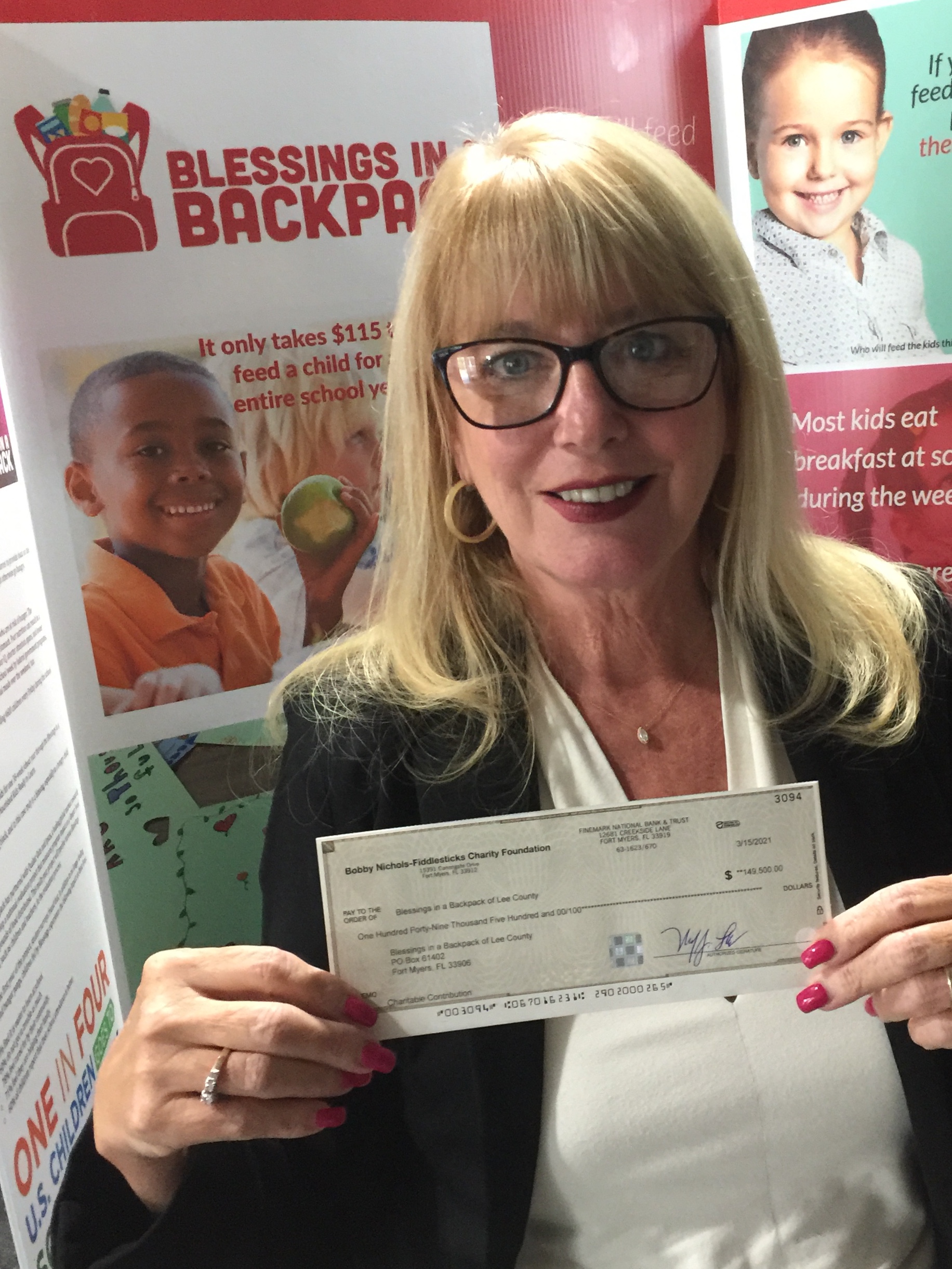 Fiddlesticks members have raised close to $1 million for food security program
The Bobby Nichols Fiddlesticks Charity Foundation recently presented $149,500 to the Blessings in a Backpack Southwest Florida Chapter to support its mission of making hunger-free weekends a reality for food-insecure children in Lee and Collier counties. Proceeds from the 18th Nichols Cup Celebrity Pro-Am Golf Tournament were earmarked for several not-for-profit organizations that serve vulnerable children. The money from this donation will be used to feed every child at Colonial Elementary and James Stephens Elementary, more than 1,200 children in all.
In Lee and Collier counties, 60,000 elementary students who receive free breakfast and lunch on school days would struggle to get the nutrition they need over the weekend without Blessings in a Backpack of Southwest Florida. The organization sends breakfast, lunch and snack foods home with more than 5,300 students on Friday afternoons — enough to get them through to a productive, happy Monday morning.
The Bobby Nichols Fiddlesticks Charity Foundation, founded in 2002, is a group of Fiddlesticks member volunteers, known as Pipers, who organize and run the golf tournament and a charity tennis tournament. Blessings in a Backpack was added to the foundation's beneficiaries in 2011 and has received close to one million dollars from the group over the last ten years. The foundation's namesake, Bobby Nichols, is a winner of 14 PGA Tour tournaments including the 1964 PGA Championship and 1974 Canadian Open, and has been a resident of Fiddlesticks since its inception.
Blessings Southwest Florida Managing Director Cecilia St. Arnold said, "The heartfelt support we receive from the Bobby Nichols Fiddlesticks Charity Foundation is amazing. The organization is outstanding and is a shining example of how individuals working together can make a monumental impact. It only takes $115 to feed one child four meals every weekend for the entire school year, and the Fiddlesticks community continues to help us grow and serve more children."