Welcome to the Fundraising Flair! We are excited to debut the first in an ongoing series that we'd like to serve as a forum to aid you in your Blessings in a Backpack (Blessings) program fundraising efforts.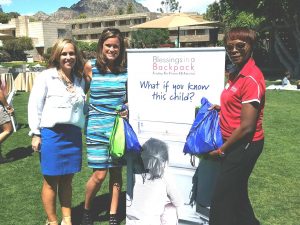 As a Program Coordinator, the top priority we know you have is ensuring the smooth successful operation of your program so that students that you serve reliably receive food each Friday during the school year. Your coordination is absolutely pivotal and equally important is funding to ensure the necessary resources to sustain and expand the number of students served. This column will start off by highlighting elements to successful fundraising. Future features will delve into fundraising techniques, tools, and tales from the actual front lines of Blessings PCs who will share their success stories because this really is all about supporting you as a dearly appreciated volunteer! In future columns, we will also respond to your most pressing questions for how you can maximize fundraising efforts.
So to start off, here are some key components of a successful fundraising approach:
Develop a fundraising strategy. Let's not overlook the obvious. As you seek funding, be thoughtful to prioritize a pursuit of prospective donors whose grant making guidelines align with hunger/childhood hunger, health, and related social causes. Many funders who receive proposals will have decline letters cued up for immediate responses if funding appeals don't directly align with causes that they focus on. Dedicate time to doing online research to find funders who are worth your time to pursue. Then, you should actually write a strategy with goals, a timeline, identifying those responsible for executing the plan and what fundraising outcomes that you expect to achieve.
Leverage, build and expand your fundraising network. Get to know those in your community who can advocate for the Blessing program and connect you with those who can consider funding your program. Get out and about and attend events in your community. You never know who you may meet that may be interested in supporting your program or who can refer you to others that may want to contribute. Mention Blessings in a Backpack loudly and proudly wherever you go. Obtain contact information and promptly follow up on all possible leads.
Listen to prospective donors. It's always tempting to immediately launch into "the ask" but better results are obtained when initially conducting active listening to prospective and existing funders. Be sure to ask what their goals are. If you have an existing funder, make sure to find out what they've particularly liked about supporting Blessings and if there's anything else that they'd like to see or receive regarding information or updates. Also, make sure funders get invited to see your program in action and partake in related events and activities.
Unleash creativity in your fundraising efforts. Be bold, be distinguished in your efforts to catch prospective funders' attention that would also benefit their corporate social responsibility interests.
Seek to procure various donations. Sure, checks and cash that you are able to secure should be diligently pursued from individuals and corporations, etc., but don't overlook other valuable fundraising channels such as companies that offer matching gift and Dollars for Doers programs. In-kind donations also have a considerable value that should not be taken for granted.
Communicate concisely, clearly and in a compelling manner. Tell the Blessings in a Backpack Story! We're in a short attention span society. That's just the reality whether we accept it or not. Saying more will result in less time spent by funders with lengthy and redundant communications. That's why your communications rule of thumb should always be guided by conciseness, clarity and compelling points that are made in your fundraising appeals. Consider these communications tips:
Let those who live the Blessings story tell the Blessings story. Make sure to regularly request feedback from BIB school/program personnel, parents, students volunteers and funders that can be used for publicity purposes and in funding proposals, always being sure to obtain permission first. Also, photos and videos speak volumes about our program and similarly, you should share those and get signed releases as appropriate.
Publicize your program shamelessly: Seek media and social media coverage in your local community and with Blessing's Marketing team that is a great way for visibility to get the attention of potential program funders and helps validate the credibility of our program with existing funders.
Collaborate and coordinate: For Blessings to attain the desired scope of reach for hundreds of thousands more children being served, it's effective to collaborate and coordinate with Blessings Corporate National to help ensure sustainability and expansion for yours and other programs around the country. For corporate funding opportunities that span beyond your community and into other cities/states, please contact Diane Palmer, associate director of corporate relations.
Be accountable to donors: Be sure to communicate program progress, challenges and opportunities with donors on a regular basis. They need to know the degree of effectiveness of their BIB investment. Also periodically ask if the information that you're sharing is on point and if they'd like to suggest ideas for being kept sufficiently informed about your program.
Thank donors… and then thank them again. Nothing says "thank you" like "thank you!" Make sure that you occasionally see in person those that provide program funding. Brief, personal notes are also something they'll take notice of, especially those originated by the students and/or parents and caretakers in your program; the same for artwork inspired thank yous.
We hope this article has been useful and we welcome your feedback, questions, and suggestions for future content!
Click here for the PC Toolkit.