Story by Erin Walden via newsandtribune.com.
NEW ALBANY — On Thursday, volunteers at Fairmont Elementary School methodically filled plastic bags with single-serving foods: Chef Boyardee brand spaghetti, granola bars, cereal, juice boxes.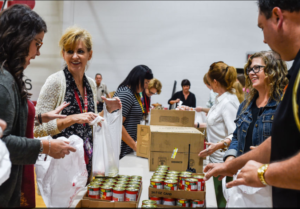 The bags may not look like much, but for some students in the New Albany-Floyd County Consolidated School Corp., they are the difference between spending a weekend hungry and fed.
A week before the Harvest Homecoming committee donated enough money to cover an entire weekend worth of the food for the more than 1,000 students who are impacted by Blessings in a Backpack in Floyd County, a program that sends kid-friendly food home with students that might otherwise go without.
"It's a great program to make sure they are taken care of over the weekend. We are often told how much it means to them to get that food," Stephanie Watson, president of the NA-FC chapter of the program and teacher at the school, said.
Throughout the school year, students at every elementary school as well as the early learning center are sent home with food to get them through the weekend according to Watson.
Even with the extra meals, students may still come to school hungry on Monday. Oftentimes they have younger siblings that aren't in school yet and will share their food to keep them fed.
Harvest Homecoming donated enough funds to cover what was bagged on Thursday for all this week's food supply, but they didn't stop there.
All of the proceeds from the iRun Harvest 5K will be donated to the nonprofit, too. A national company named UNIVERA is also getting in, pledging to match up to $5,000 of those proceeds, according to Art Niemeier, the Harvest Homecoming representative in charge of the event.
"We want to challenge other civic organizations to do more," Niemeier said.
New Albany Mayor Jeff Gahan, who lent a hand filling the bags, said the same.
"It's a great program that touches a lot of folks… The city of New Albany has supported it every year – we'd like to see the county government, the Community Foundation, [One Southern Indiana] and The Hospital Foundation… do more," he said. "We have a great community and hats off to Harvest Homecoming, they consistently step up. As has the Horseshoe Foundation, they have been equally generous [as the city]. We have a great community and a city council with a lot of great people doing great things, but there's always room for more."
According to Watson, all of the donations made in Floyd County stay in Floyd County and if people give then more students can be fed and the program can grow.
The standard model, based on a national organization, only serves students in elementary schools, but Watson hopes one day to expand the NA-FC program to higher grades. To send food home each weekend for one student for the entire school year is just $100.
"In 5th and 6th grade they're still babies. You can't tell them to get a job to help support themselves," Watson said. "We would definitely like to see this extended into middle school and that can only come through more donations in the future," Watson said.