Remembering Jay Milton: The Man Behind the Boerne 0.5K

Jay Milton was the brains and wit behind the Boerne 0.5K (pronounced like Bernie), billed as the world's shortest road race and attracting the attention of underachievers far and wide.
If you're not familiar with the "race," it begins and ends with a pint of beer. A doughnut and coffee hydration station is at the halfway point (.15 miles). And participants receive a 'pretentious' oval Euro-style 0.5k sticker for their car, so people know there's a true athlete behind the wheel.
On Good Morning America, Michael Strahan said jokingly about the event, "0.5K is just my speed!"
"When we started the 0.5K, we were unsure which charity we should raise money for. But we knew the charity had to serve kids, be local, and have very little overhead so that the donation would be meaningful and not just a drop in the bucket," said Jay of the inaugural event. "When we learned of Blessings in a Backpack, it was an immediate and perfect fit."
From 2018–2020, the 0.5K sold out; in 2019, it sold out in only 37 minutes! It's also raised over $100,000 for the Blessings program in Boerne, Texas.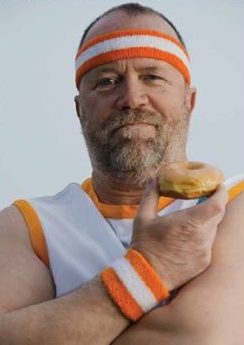 "I witnessed first-hand that Blessings 'let Jay be Jay' when creating and hosting the 0.5K by not only supporting the event every step of the way but trusting that Jay's penchant for humor was outmatched only by his commitment to help the cause," said Jennifer Milton, Jay's wife.
Sadly, Jay passed away unexpectedly in December 2021. He was 57.
"He was an amazing man, as anyone who spent time with him would attest," shared Kathy Bandujo, program coordinator of the Blessings in a Backpack Boerne program. "We are stunned and saddened by his passing."
But Jay's legacy will live on, not only through the humor of 0.5K — which his wife and friends are planning again for October 2022 — but through the Blessings in a Backpack mission. Proceeds from the event have helped the local Blessings program expand its reach to serve all 11 schools in the Boerne Independent School District. During the 2021–2022 school year, 440 children left school on Friday with a backpack full of healthy, satisfying food.
"Our goal is to make sure no child goes hungry on the weekends," said Kathy.
Jay's impact has also made its way to Louisville, Kentucky. In 2019, he helped the Blessings in a Backpack Louisville Chapter host its first 0.5K, and the fan-favorite fundraiser was back this year after a two-year hiatus. The Louisville Chapter provides weekend food for more than 6,000 children.
"Jay was a lifelong avid community organizer and contributed to many great causes over the years," shared Jennifer. "I once asked Jay why he continued with Blessings as the event's designated charity. Jay replied with a firm 'It will always be Blessings in a Backpack,' stressing that the money raised by the 0.5K went directly to the kids in our community. I knew our family's decision to request donations to Blessings in a Backpack in his honor would be exactly what Jay would have wanted."