Legislator Anker Honors Blessings in a Backpack's Trisha Ewald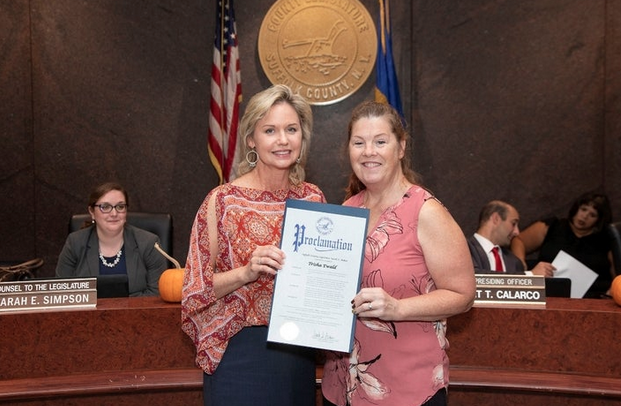 By Office of Legislator Sarah Anker, Patch Contributor
On Wednesday, October 2nd, Suffolk County Legislator Sarah Anker honored Trisha Ewald at the General Meeting of the Suffolk County Legislature in Hauppauge. A Longwood resident, Trisha serves as the northeast regional manager and Longwood School District program coordinator for Blessings in a Backpack, a national organization which provides pre-packed meals over the weekends to students living in food-insecure homes.
The Longwood Chapter of Blessings in a Backpack serves the communities of Medford, Gordon Heights, Shirley, Ridge, Middle Island, and Coram. As a regional manager, Trisha oversees over 120 volunteers who facilitate the program in their local school districts.
"No one in this country should ever go hungry, and I commend Trisha and Blessings in a Backpack volunteers for bringing such an important service to our community," said Legislator Anker.
Legislator Anker's office is holding a food drive for the Longwood Chapter of Blessings with a Backpack until November 1st. Donations can be brought to her office in Mount Sinai. Please call (631) 854-1600 to schedule a drop-off time.