Backpacks in Paradise at Broadmoor Elementary School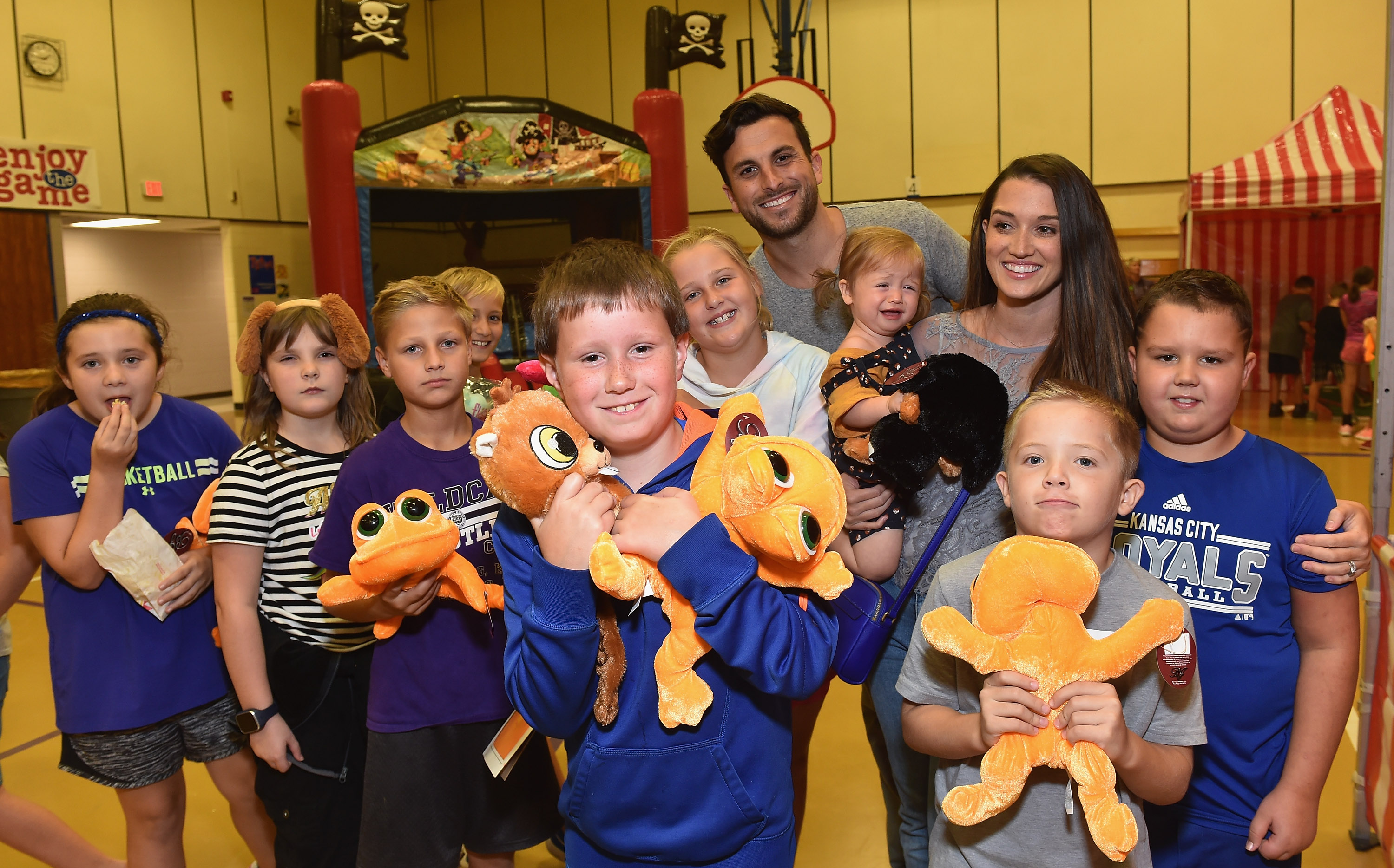 Story by John VanPelt via republic-online.com.
Pictures by Getty Images.
LOUISBURG, KAN. — It was backpacks in paradise Thursday at Louisburg's Broadmoor Elementary School.
Students at Broadmoor got off to a great start this school year as they just recently participated in a ribbon-cutting ceremony for the school's new playground. But, that wasn't all that was in store for the third- to fifth-graders.
Students were surprised Thursday with a backpack for each of them, 382 Vera Bradley backpacks in all, some featuring the company's iconic butterfly design and others in all black. The backpacks were donated to the Louisburg school by the company in partnership with the nonprofit organization, Blessings in a Backpack.
But the fun did not stop there. After students were brought up on stage to model the backpacks, Tanner Tolbert and Jade Roper Tolbert, winners of the second season of the reality television show Bachelor in Paradise, announced what got the students really excited — a carnival was set up in the school's gymnasium.
As the doors to the gym were opened, the kids could not conceal their delight, many letting out shrieks of excitement and jumping up and down as they crowded through the doors and into a fantasy land for children.
The carnival featured games, inflatables, cotton candy and activities for the students staffed by workers from the company, Amusement Masters. There were red-and-white-striped tents set up throughout the gym, each with something different to do. Students were walking around with their hands full of prizes and cotton candy.
"Oh my gosh, it was amazing," said Cindy Apple, BES principal. "That was the best. I got to see the emotion on their faces as they came through the doors. They were so amazed and excited. They were just filled with awe.
"One girl just looked at me and asked, 'Where do I go first,' and I said, 'You can go anywhere you want,' and she just jumped up and down," Apple said.
Stefanie Chevillet with Vera Bradley said this was the second school stop for the program, with the first stop being in Chicago and five more stops to go. Seven schools were chosen from throughout the country to be featured in the partnership between the women's brand and Blessings in a Backpack. Louisburg is the only school district in Kansas that participates in the backpack program.
The Olympic gymnast Shawn Johnson was the special guest at the Chicago school. Tolbert and Roper, who live in Stilwell, were the special guests at the Louisburg event and they brought their 1-year-old daughter, Emmy, with them.
Working with Blessings in a Backpack, Vera Bradley is donating 25,000 backpacks to students throughout the country this year. Chevillet said it has been an incredible experience so far.
"One little girl came up to me with her mouth all blue and said the cotton candy was the best she has ever had," Chevillet said. "The kids are so excited and having such a wonderful time. I cannot think of a better way to start a school year."
Erin Kerr, chief development officer with Blessings in a Backpack, said it's been wonderful to form this partnership with Vera Bradley.
"It's really been inspirational to see Vera Bradley support these communities," Kerr said. "It's amazing to see the support they have given to the schools and the children. The start of a school year can be an anxious time, but they have helped it be a fun start for these kids."
Blessings in a Backpack is a program in nearly 1,100 schools in 45 states, all the way from Sanibel, Fla., to Sitka, Alaska. The program provides food for elementary school children across the country who otherwise may have little or no food to eat over the weekend during the school year.
Linda Conklin started the program in Louisburg in 2013. It is now run by Kylie Schleicher and Callie Patterson.
"It is so generous that they donated all these really nice backpacks," Patterson said of Vera Bradley. "Since all the kids received a backpack, it will really help ensure the anonymity of the program as no one will know whose backpacks are getting filled with food for the weekend."
Earlier in the day on Thursday, Principal Apple said she had seen a third-grade girl who was not having a good day. Apple promised the girl that her day would soon be getting better.
"When I saw her at the carnival, I asked if her day really did get better and she just said yes with the best smile on her face," Apple said. "It had turned her day around."
More information about the program's partnership with Vera Bradley can be found at www.verabradley.com/us/static/blessingsinabackpack.