Blessings in a Backpack Celebrates its 10th Birthday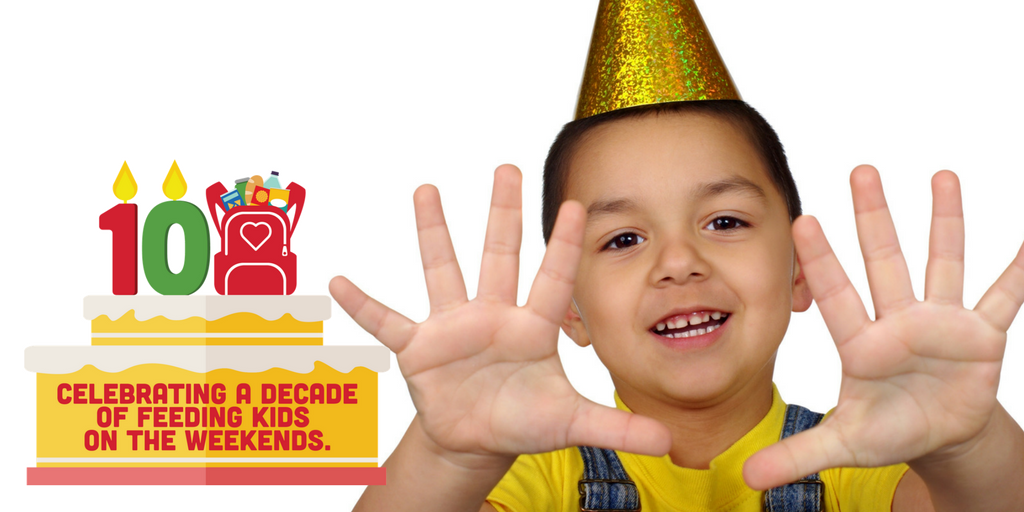 A message from our CEO Brooke Wiseman
Blessings in a Backpack is celebrating a decade of feeding kids on the weekends! We became a 501(c)(3) organization on December 15, 2008. Since then, we have made more than 20 million hunger-free weekends a reality for kids across America.

Our extraordinary growth in 10 years and the number of kids with access to food on the weekends would not be possible without our dedicated volunteers, school officials, corporate and athletic partners, and donors. On behalf of our organization, I thank you for your support of our mission.

I invite you to join us in 2019 for our birthday celebration. See the details below for the ways that you can get involved.

Cheers to the next 10 years,
Ways that you can join in the celebration:
Donate your birthday. Share your birthday with kids facing food insecurity. Make a difference by asking for hunger-free weekends instead of personal gifts.
Share your favorite Blessings memory or experience on social media. Tell your friends that it's our birthday and tag Blessings in a Backpack. Follow us on Facebook, Instagram, Twitter, and LinkedIn.
Buy a 10th birthday tee. Get your commemorative birthday v-neck t-shirt before we sell out. Blessings name on the front; birthday logo on the back. Only $10 in honor of our 10th birthday!
Create a Facebook fundraiser. Share the link with your friends and family and encourage them to donate. Facebook takes no fees, which means 100 percent of your gift will help us feed the kids this weekend.
Create positive note cards with words of encouragement for children to take home with their food over the weekend. Click here to get started. A great activity for families and kids.
Click here for more ways to get involved!
We have a few birthday surprises in the works for 2019. Follow us on social media and check your email—we will share the details in the new year.