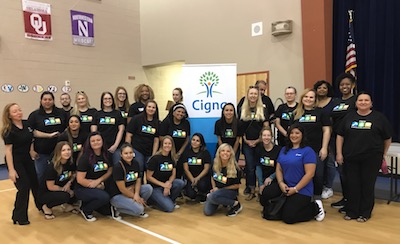 On September 28, Thew Elementary School's gymnasium erupted with cheers and smiles as students realized that their early morning assembly was actually a large community donation event celebrating National Blessings in a Backpack Day. Members from Cigna Corporation and the Tempe Leadership organization helped fund, pack, distribute packs, and high-five students on that day.
"This was an incredibly humbling experience to see Thew students so excited to receive something as basic as a backpack of food," said Tempe Leadership Board Member Preston Swan. "Their energy was infectious, so we ended up cheering alongside them!"
Tempe Leadership supports an annual project that addresses the needs of the Tempe community. This year, the organization is currently working on a project to address childhood hunger. After learning about the impact of Blessings in a Backpack at Thew Elementary, Tempe Leadership knew that they would like to further the impact at the school.
Blessings in a Backpack is a non-profit organization currently feeding over 90,000 children, at more than 1,000 schools in 47 U.S. states and the District of Columbia. Their mission is to mobilize communities, individuals, and resources to provide food on the weekends for elementary school children across America who might otherwise go hungry.
"Every Friday, our school selects 200 students who are able to take home a Blessings in a Backpack food donation for the weekend," said Thew Principal Marissa Schneckloth. "It's great when all of our kids can take home a backpack because all of our students have a need and could benefit from this program."
Tempe Leadership raised $32,000 to expand the backpack program to all students at Thew Elementary. The group held fundraisers, applied for grants, and wrote donation requests to complete their goal. WIth over 700 alumni in the Tempe Leadership program, many people offered their support to Thew Elementary!
Cigna Corporation also donated nearly $13,000 to Thew Elementary to expand their Blessings in a Backpack program.
Cigna has had a national partnership with Blessings in a Backpack for six years through Cigna Foundation's World of Difference grant program. The grant program brings resources together to address needs in the community such as food insecurity, providing critical relief to children who are on various food assistance programs.
In part of Cigna Corporation's sponsorship of National Blessings in a Backpack Week, the organization donated a total of $50,000 and divided it to provide packing events at four schools. This was the second time that Cigna came to Thew Elementary to fund a Blessings in a Backpack event.
"Sending these children home with a backpack full of food allows them to focus on growing up healthy and strong and prepared to learn, rather than worried about where they're getting their next meal," said Cigna Corporation Field Marketing Manager for Arizona Alexandria Klein.
A total of 28 Cigna Corporation employees participated in the donation event at Thew alongside eight Tempe Leadership volunteers.
"We were thrilled to have been part of this effort," said Swan. "We could have chosen any project we wanted, but helping feed the future of Tempe is such a golden opportunity."
Students were each given bags of food and excitedly looked inside to see what food items they were able to bring home. All bags were packed with non-perishable, child-friendly food and contain three of the four essential food groups. Items include, but are not limited to, granola bars, raisins, applesauce, crackers, macaroni and cheese, and soups.
"I feel really special that I got this food today," said Third-Grade Student Camron Dixon. "I'm excited to go home and share it with my family."
Thank you Cigna Corporation and Tempe Leadership for making a difference in the lives of Thew Elementary students!