On the morning of Friday, September 29, students at Nevitt Elementary were surprised to find out that their multi-purpose room transformed into a donation and distribution center to celebrate National Blessings in a Backpack Week. Colorful new sackpacks and boxes of canned goods, cereal, and snack bars were stacked high on tables. At another table, over 800 new books from a variety of genres were on display.
Thanks to the generous donation from Waste Management Phoenix Open, Thunderbird Charities, PGA Tour Wives, and Kids Need to Read, each student from Nevitt Elementary was given a new sackpack, non-perishable goods, a Highlights Magazine and a new hardback book of their choice to celebrate National Blessings in a Backpack Week.
"It's amazing to see these kids so full of joy and confidence when they are handed a backpack, and I couldn't wish anything more for them," said Director of Charitable Giving for Thunderbird Charities Cheryl Ruggiero. "We love coming back each year to help support them through this great program."
Blessings in a Backpack is a non-profit organization currently feeding over 90,000 children, at more than 1,000 schools in 47 U.S. states and the District of Columbia. Their mission is to mobilize communities, individuals, and resources to provide food on the weekends for elementary school children across America who might otherwise go hungry.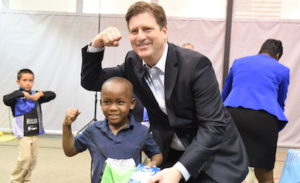 One-by-one, each Nevitt student made their way through the line and said "thank you" to community organization members, Tempe Elementary staff, parents, and fellow students who helped distribute the donations. This year, students were also excited to receive donations in their backpacks from Phoenix Mayor Greg Stanton!
"Nevitt is one of our best schools in the entire city," said Stanton. "What a great thing to know that each and every one of these students will go home with healthy food and a new book for the weekend."
Nevitt Third-Grader Brandon Martinez was one of the students who helped pass out food to his schoolmates. When asked why he wanted to volunteer, he explained that he understands the impact that donations have on his fellow classmates.
"I wanted to help pass out food so that my friends won't be hungry over the weekend," said Martinez.
Denise Gary, executive director of Kids Need to Read, went the extra mile by giving each Nevitt student a high-five when they approached her table for a brand new book. Gary noted that the mission of Kids Need to Read is to empower today's youth with access to book collections and literacy programs.
"It's so important for our kids to develop a love for reading," said Gary. "This year, we also included a flyer with reading tips that students can share with their families to encourage more reading at home."
"The more we can get students reading, the more they will start recognizing that it isn't a chore but that it is fun," added Mayor Stanton.
Kids Need to Read recognizes the importance of involving parents in developing their child's reading skills. You can find resources for parents and children on the Kids Need to Read website.
Fifth-Grader Eric Garcia explained that he was excited to not only read his new Batman book by himself, but also share it with others.
"I can't wait to read my new book with my teacher and then bring it home to my family," said Garcia.