Boerne 0.5k Race Raises $30K for Local Program
Who says underachievers can't do big things?
The underachievers of Boerne, Texas, proved that big things come in small, um, distances, as they took to the starting line at the Boerne 0.5k, a race billed as 'the running event for the rest of us.' The race raised more than $30,000 for the town's Blessings in a Backpack program that is feeding 400 kids on the weekends — surpassing the event's fundraising goal by 500%!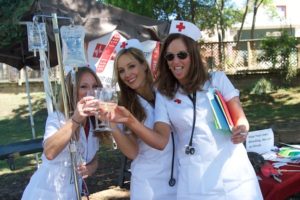 "The Boerne 0.5k is a fun spoof of a typical 5k, so we have a lot of the same things," said Jay Milton, founder of the race. "Instead of a water station, we have a donut and coffee station. We have a medical tent that's staffed by WWII era nurses. And we have a backdrop [at the finish line] where people can take pictures to celebrate their achievements."
And there was beer, live music, and awards.
All finishers received t-shirts, participation medals, and 'pretentious' oval Euro-style 0.5k stickers. VIP registrants could opt for a ride to the finish line and earn bigger medals.
The cheekiness of the run garnered international attention, with feature stories on Good Morning America, Newsweek, NPR, and The Kane Show, among others. Donations for Blessings in a Backpack began rolling in from overseas. A French couple, who was visiting Austin and learned about the 0.5k from a French news outlet, took a day trip to Boerne to participate in the race.
For anyone still wanting to be a part of the Boerne 0.5k, you can sign up for a 'Procrastinator's Prize Pack." A $25 donation, made before May 10, 2018, will get you a t-shirt, medal, and 0.5 sticker.
Video by The IMG Studio.
Photos courtesy Jason Abbott Photography and Ralph Mawyer