Culver Academies Students Propose Ways to Feed Local Kids

Culver is first high school to take part in The Impact Competition.
Story by Tom Coyne via culver.org
Culver Academies students, the first high school teams to take part in the prestigious Impact Competition, flooded Blessings in a Backpack with ideas to raise money while letting more people know about the work of the nonprofit that works to make sure school-age children in need don't go hungry on weekends.
Among the fundraising ideas suggested by students taking the class Applications of Innovation taught by Ed Kelley, a master instructor at Culver's The Ron Rubin School for the Entrepreneur, were raising money at a local grocery store by asking customers to round up their purchases, a golf tournament, and resuming a popular 5k run that hadn't been run since the pandemic.
Other solutions suggested by the six three-student teams were posting QR codes on posters around Culver that would allow people to donate, placing QR codes on pizza boxes seeking donations, various social media campaigns, and passing out information cards in areas where there are a lot of pedestrians.
While two teams were declared the winners, the Blessings in a Backpack program in Culver is free to use any of the ideas offered by the students.
"To me, they were all winners," said Marian McCuen, co-program coordinator of Blessings in a Backpack Culver and one of the judges. "Now I have to present the ideas to our group."
The Impact Competition, founded by Lance Breitstein, seeks to empower students to address the most pressing real-world social issues in their communities. The Impact Competition Foundation previously has worked with universities such as Indiana University, the University of Chicago, the University of Maryland, and others.
Culver Academies, an Indiana boarding school 85 miles southeast of Chicago, marks the Impact Competition's first collaboration with a high school.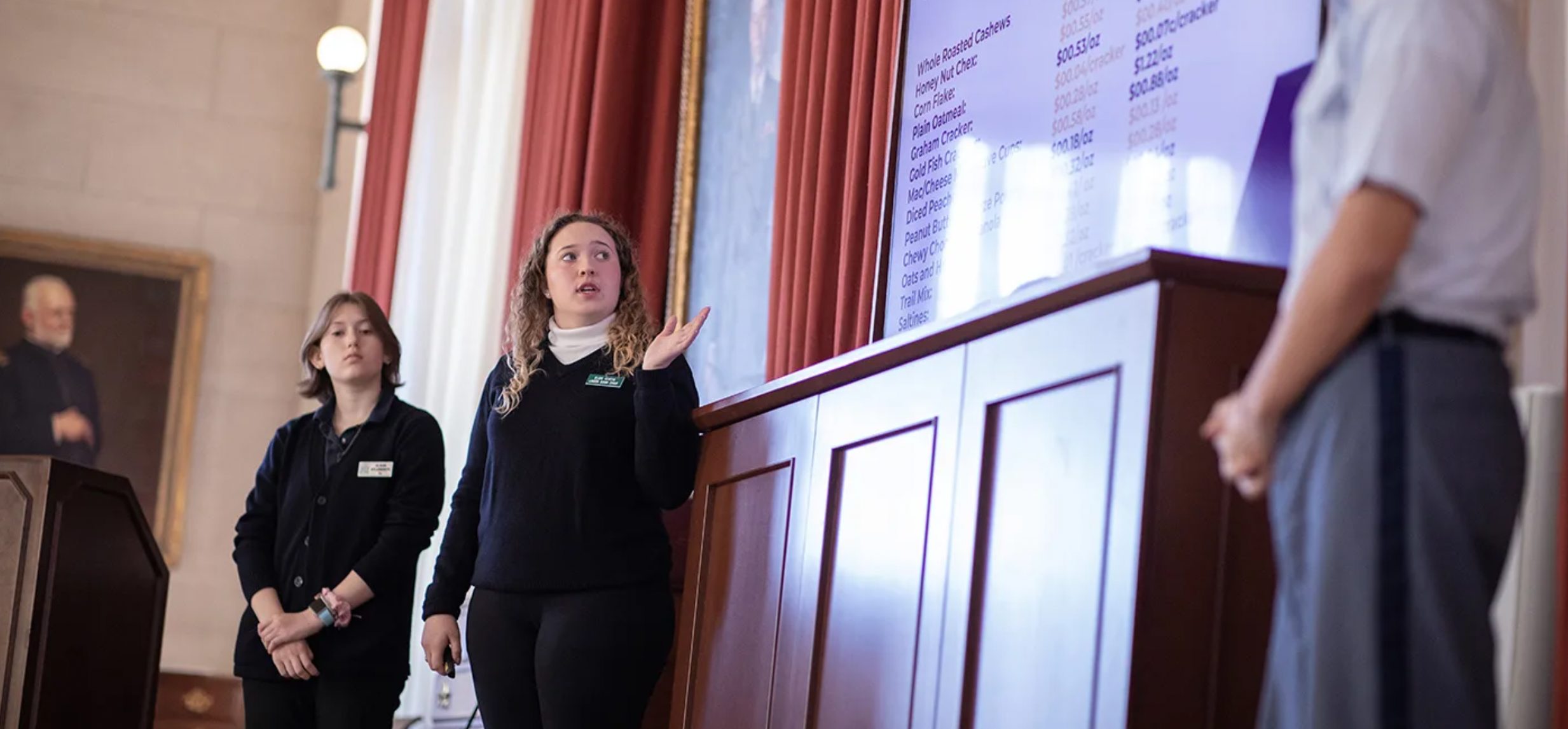 Eleni Kurtis '23 presents a proposal from the Ace team as Alison Aylesworth looks on.
"We have never done this before at the high school level. Generally, we work with top universities," said Breitstein, a philanthropist and activist for social impact. "So the question of, 'Would we be willing to work with the Culver Academies,' was an interesting one. And the more we got to know Culver and the quality of the programming, the mission, the values of the school, and more than anything the caliber of the students, it became a no-brainer to know that you all could pull it off well.
"And then when we heard about Blessings in a Backpack and their mission and how what they do would resonate so well the students, we knew we had everything we needed for success," he said.
Breitstein told Culver students at the beginning of their presentations that: "no matter who you are, the change begins with you."
"There's always going to be someone that's wealthier or smarter or has more time than you. And nobody tends to act because no matter who you are, there always will be that other person out there that you think should be doing the work for you. That's why it must begin with us," he said.
The students were given the challenge of coming up with ways of providing a week of nutritious food when schools are not in session and it is harder to get food to them; to create a fundraising plan for Blessings in a Backpack Culver that would raise at least $40,000; and to devise better methods of getting the word out to share vital information to volunteers, to let donors know Blessings in a Backpack is grateful and to find new donor bases.
J.D. Uebler, director of the Rubin School, said working with Blessings in a Backpack gave students an opportunity to see how their work could help others.
"This is a great opportunity to compound positive social change in communities," he said.
The Ron Rubin School for the Entrepreneur committed $8,000 for students to budget in their proposals, ensuring that Blessings in a Backpack would not have to come up with the fund to implement the most impactful solutions.
Students who attend classes in the Culver Community School Corporation come from four counties and slightly more than half the students qualify for the free or reduced lunch program. Blessings in a Backpack sends children home from school each Friday with two entrée items, two breakfast items and two healthy snacks. If Blessings in a Backpack Culver were to fail, about 150 families would experience food insecurity on the weekends.
The Culver teams, made up of three students each, were given 10 minutes to present their proposals, followed by five minutes of questions by three judges. The winning teams were Hungry Helpers and Visionaries. Breitstein said he was impressed with all the presentations, but the winning teams did the best job of coming up with innovative ideas and talking with knowledgeable people to make sure those plans would work.
"It was the culmination of all their ideas and how well they were presented — the details, checking with the external sources, the budget, the timelines," he said.
Walter Osowski '25 and other members of Hungry Helpers make their presentation.
Congratulations to the Winning Teams:
The Visionaries team of Noah Day '24, Ju Sung Kang '24, and Tyler Laskowski '24 proposed asking customers of Park 'N Shop in Culver to round up their bills to the nearest dollar and donate the money to Blessings in a Backpack. The students said managers at the store estimated the donations could bring in more than $50,000 a year. The students said Park 'N Shop also was willing to put up QR codes in the store allowing donations to Blessings.
The students also asked Papa's restaurant if they would be willing to put QR stickers on their delivery takeout boxes seeking donation. The students said Papa's also said they would donate a portion of their proceeds two days a month to help Blessings. The students said Bourbon Street Pizza also was willing to put QR codes on takeout boxes.
The other winning team of Hunger Helpers, Nikolas Menendez '24, Kari Teglia '24, and Walter Osowski '25, proposed using those involved in the leadership program at Culver summer camp to help pack and distribute food to Blessings in a Backpack, to raise funds by resuming the Bolt for Blessing fun run and holding a fundraising golf tournament (with a 50/50 raffle) and offering people the opportunity to sponsor a child for $400 and giving sponsors a special key chain, which would help with marketing.