EFCO Finishing Delivers Hunger-Free Weekends to Children in Waukesha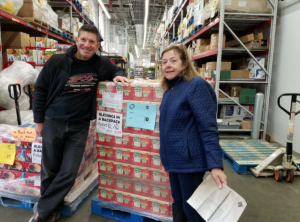 Story from efcofinishing.com.
On Saturday, May 20th, Terry Schultz from EFCO Finishing assisted a community service project in Waukesha County, joining the county's chapter of Blessings in a Backpack. Terry picked up a total of 6 pallets at Sam's Club in Waukesha, on EFCO's truck, and delivered on EFCO's to St. Anthony's on the Lake in Pewaukee where it will be distributed to elementary school-aged children.
Special thanks to Jody Henkel and Regina Estrada for all of their hard work in coordinating Saturday's activities.
Thank you EFCO Finishing for your support of hunger-free weekends in Waukesha!