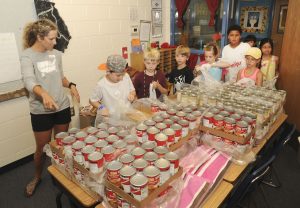 By Lauren McDonald, goldenisles.news
With summer vacation starting soon, Breanna Young hopes one lesson in particular will stick with her students.
Above all she has taught them this year, she hopes her class remembers the value of kindness.
So Young, a second-grade teacher at Oglethorpe Point Elementary, spearheaded a school-wide Compassion Project, which allowed each grade level to pick its own service project to complete during the final week of the school year.
"I was going to do the Compassion Project in my classroom every day this week, and when I brought it to (Principal Carter) Akins, he said 'let's do it with the whole school,'" Young said.
The students chose a variety of ways to offer compassion to others this week. The kindergarten class made 'Welcome to OPES' materials for new students, the third grade adopted a sea turtle, and the fifth-graders volunteered as 'reading buddies' for lower grades.
And Young's second-grade class opted to help address a hardship faced by many of their fellow students. On Wednesday, they volunteered with Blessings in a Backpack and packed bags of food to be sent home with students in need.
"During the summer, we wanted to make sure that students have extra food while they don't get their meals here at school," said second-grade teacher Meagan Smith.
Blessings in a Backpack works weekly to fill up bags of food to send home with students in Glynn County who might not otherwise have access to food while not in school.
"We have very supportive and loyal volunteers that help us every Friday, and the guidance counselors tell us how much of an impact this program plays," said Mandy McCaskill, a school liaison for Blessings in a Backpack. "And that's what's so important for these kids — to see and give back to other children."
Assembly-line style, the second-graders each grabbed a plastic bag and filled it with various food items — fruit, ravioli, juice, crackers — then handed it off to be tied up and sent off for delivery.
By the time each second-grade class had come through, an entire corner of the classroom had been filled with bags of food, soon to be given away.
The service project hopefully opened the students' eyes to the needs of those around them, Smith said.
"They're thinking about other people, other than themselves, and showing compassion," she said. "Maybe they don't know who this is going to, but they know that they're helping somebody, and maybe somebody their own age."
Mary Catherine Sexton, who leads the local chapter of Blessings in a Backpack, said she's currently looking for all the volunteers and support she can get, as the program will be serving nearly 1,000 students next school year — roughly 300 more than it served this year.
"We're going to be taking over about 300 more students at Burroughs-Molette Elementary," she said.
The program is seeking monetary donations from the community, and Sexton said the money will be used to buy food at Second Harvest.
Donations can be sent to 160 St Clair Drive, St. Simons Island.
Akins, the principal at Oglethorpe Point, said the Compassion Project helped the school end the year on a good note.
"We want to teach children how to interact positively with their peers and to help those outside of their circle," he said.
And Young feels that no greater lesson can be taught.
"The most important thing they can learn is kindness," she said.
Read more from goldenisles.news