Going bananas for Dale Earnhardt Jr.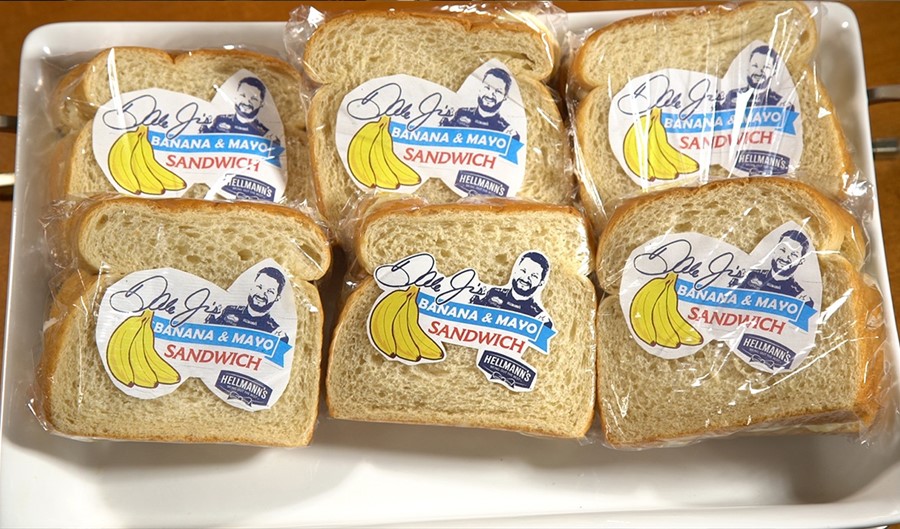 One tweet really can make a difference!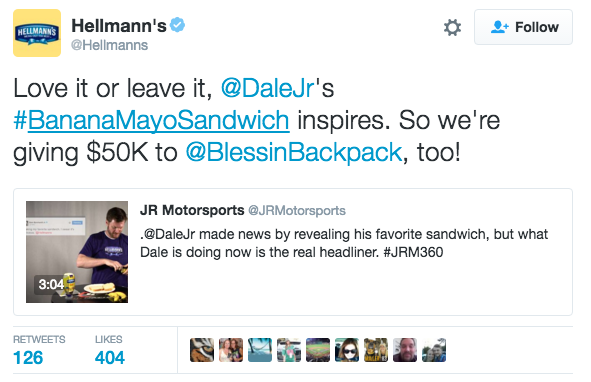 The internet went crazy in early April when Dale Earnhardt Jr., who has supported Blessings in a Backpack since 2010, shared that his favorite sandwich was mayonnaise and bananas on white bread. The NASCAR star channeled this buzz into a positive – encouraging his supporters to donate funds to Blessings in a Backpack and committed to matching the donations up to $50,000. The next week saw Hellmann's Mayonnaise donating $50,000 of their own to benefit our programs … Rachael Ray donated $5,000 as well.
"We are so thankful for the efforts of The Dale Jr. Foundation and all others who created such a tremendous opportunity to help needy children across the country," said Brooke Wiseman, CEO for Blessings in a Backpack. "It is wonderful people and organizations, like Dale and Hellmann's, that we can provide a safety net from hunger for students and bring awareness to an important cause."
The Dale Jr. Foundation has been a continuous advocate in the fight to end childhood hunger. Since 2010, both Earnhardt's and The Foundation's support of Blessings in a Backpack weekend nutrition programs has provided 1,650 children will the food necessary to start school on Mondays nourished and ready to learn.
The Foundation's support of the organization equates to the following:
63,536 hunger-free weekends
190,608 pounds of food donated to schoolchildren
$167,000 in donations to Blessings in a Backpack programs in Kannapolis, N.C. and Mooresville, N.C.
On April 23, Junior also supported Blessings in a Backpack at ToyotaCare 250 at the Richmond International Speedway – not only displaying the Blessings in a Backpack logo on the side of his No. 88 Hellmann's Chevrolet stock car, a sign of his continuous commitment to combat childhood hunger in the United States, but race fans could also purchase the famous 'Dale Jr. Sandwich' at the track – with 50 percent of proceeds going to the Foundation.
Visit www.dalejrsandwich.com to learn more.