Improving Lives and Feeding Minds, One Backpack at a Time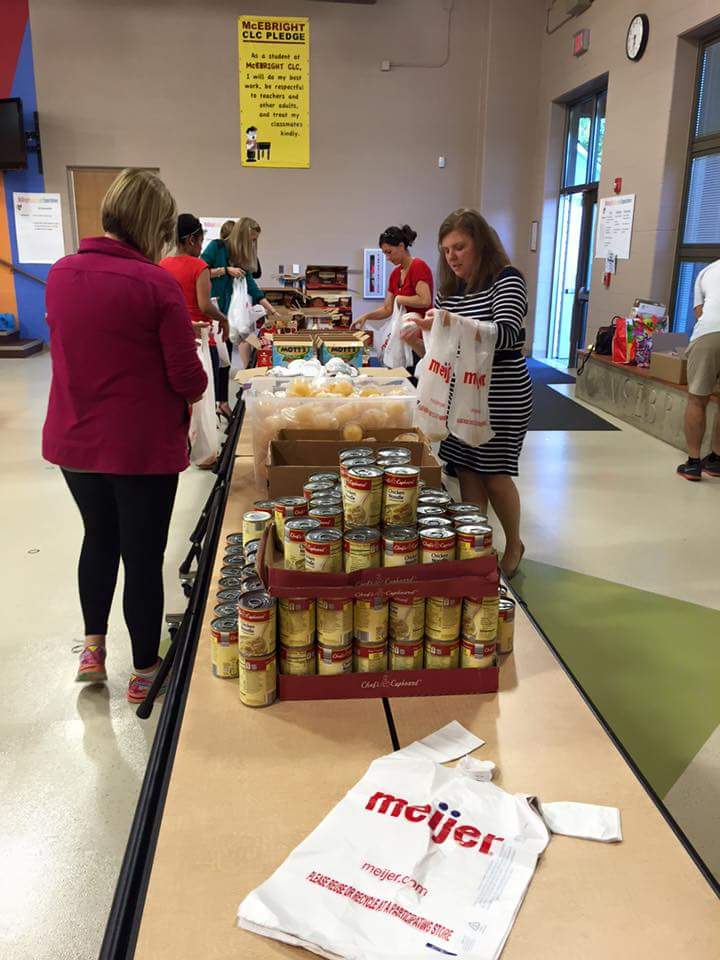 On a recent Friday morning at Engelhard Elementary in Louisville, Ky., a group of children performed a traditional Philippine dance for members and friends of the Junior League of Louisville. Shifting between moments of giggling and purposeful focus, two students performed the dance while a third student and a teacher operated poles. The dance—known as tinikling, in which performers jump between two hollowed out poles being tapped in unison—was done in honor of late Junior League of Louisville member, Pia Posadas Miller.
Miller passed away unexpectedly in May of 2015. A beloved Junior League member and mother, Miller had a passion for children that translated into a desire to give back to the community. One of Miller's favorite volunteer opportunities was packing backpacks full of food for Engelhard students through the Blessings in a Backpack program.
The Junior League of Louisville has been involved with Blessings in a Backpack (BIB)—a non-profit organization aimed at providing food on the weekends for school children who might otherwise go hungry—for more than ten years. This partnership, popular among Junior League of Louisville members, has only strengthened with time. When Miller passed, the Junior League of Louisville dedicated a day each year to pack backpacks at Engelhard in her honor. According to Leigh Anne Burke-Schaad, president of the Junior League of Louisville, this packing event is meaningful to both of the organizations and the school.
"It's so heartwarming because her family gets to be involved, the league gets to be involved, and we get to honor her memory because it was one of her favorite community volunteer opportunities. Pia's daughter gets to see the impact her mother continues to have."
Initially partnering with BIB was a no-brainer for the Junior League of Louisville. At the time, the league had an initiative called "Be Fit, Be Fine" to talk about nutrition and physical fitness. This mission to educate and better the community through a focus on health and wellness translated seamlessly into a partnership with BIB.
"Feeding a child that may otherwise not be fed is something we can all be passionate about. With learning, your tummy has to be fed before your brain can be fed," said Burke-Schaad.
The Junior League of Akron also understood the connection between being fed both physically and mentally, and their partnership with BIB fit effortlessly into their focus projects.
The league has been identifying needs and finding solutions for childhood wellness and nutrition issues in Akron for decades. When a Junior League of Akron member asked if the group would help with BIB packing events, the response was a resounding "absolutely."
The Junior League of Akron participated in four packing events during the 2014–2015 school year. Members enjoyed the event so much that it became a part of the regular volunteer schedule the next year. This partnership between the Junior League of Akron and BIB has existed ever since. Julie Miller, former vice president of community outreach and current president-elect for the Junior League of Akron, estimates that the league has invested thirty to forty hours total packing backpacks.
"Blessings in a Backpack has had such an amazing impact on children in Akron. The Junior League of Akron packs for 435 children. That's 435 children who are getting food for the weekend that they otherwise may not have."
The packing, done at McEbright Elementary in Akron, Ohio, is completed after the students have gone home for the day. Members feel passionate their work is making a difference because of feedback they have received.
"We found out through members who know teachers that they really appreciate [Blessings in a Backpack] and that they have seen a distinct difference in the kids' behaviors and in their grades," said Miller. "The teachers have discussed the need for this program."
The Junior League chapters in Louisville and Akron are not the only ones incorporating BIB into their service projects. The Junior League of Chicago launched a three-year partnership with BIB last year. This partnership supports both organizations' commitments to improving communities by directly removing a food barrier for in-need children and their families.
Robin Rueff, communications manager for BIB and sustaining member of the Junior League of Louisville, sums up the importance of a partnership between these two organizations. "Like the Junior League, Blessings in a Backpack is a volunteer-driven, results orientated organization that's making a positive impact in local communities through action. When we partner together, we are improving the lives of children and their families and putting an end to childhood hunger, one backpack at a time."