PGA TOUR wives hit TPC Scottsdale for charity, embrace 'hilarious' 1980s theme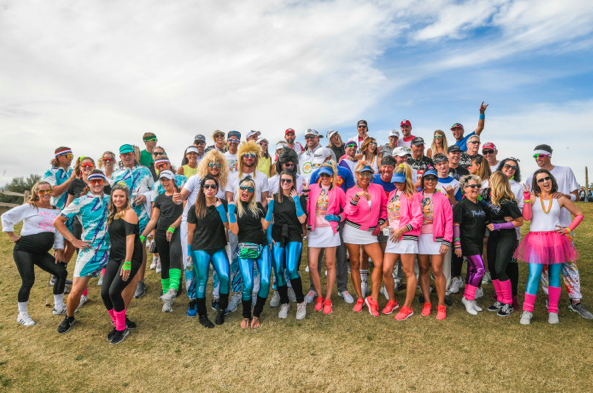 Meagan Laird dragged her husband Martin to the range on Monday, and they hit balls for about an hour.
But it wasn't to fine-tune the three-time PGA TOUR champ's game in advance of this week's Waste Management Phoenix Open. Actually, Meagan was the one who needed the practice time.
"I have a tendency to — Martin laughs (at me) — swing a little hard," she explains. "I try to go all in instead of like, you know, break myself. So, I was more afraid I was going to pull a muscle or something."
Luckily, though, Meagan had no injuries to report after playing in Tuesday's PGA TOUR Wives Classic on the Champions Course at TPC Scottsdale. And while she felt she "wasted all my good shots" on the range — "It looked like I'd never touched a club," Meagan said — her team finished in a three-way tie at 8 under.
Of course — the nine-hole scramble, which began in 1987 — was all in fun, as well as to raise money for charity, with half of the proceeds staying in the Phoenix area. This year, the PGATWA is funding Blessings in a Backpack at Nevitt Elementary School to provide food on the weekends for children who might otherwise go hungry.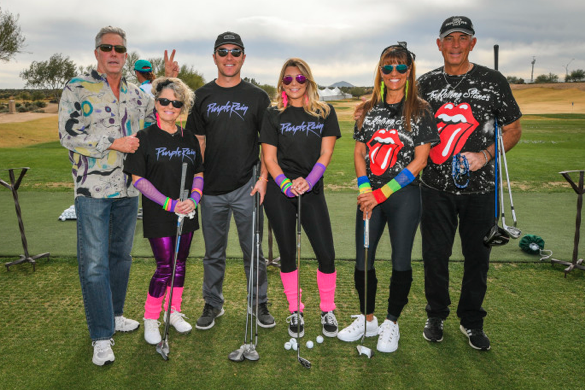 The winning team, in a scorecard playoff, was Melissa Lehman, Rachel Chapman, Jennifer Smith and Cynthia Allen while Laird's group of Ashley Teater, Casey Sloan and Ina Kim finished second. Also coming in at 8 under in third was Andrea Knox, Alicia Zuckerman, Kelly Hoge and Alyssa Cejka.
Martin was among the husbands and significant others driving the cart – wait, make that, caddying — offering advice, at times, and moral support always. At times, though, Meagan noticed her husband was a bit distracted – he was texting his coach and his own caddie, trying to get the loft right in one of his wedges.
"And I looked at him, your job is here right now," she said. "He just kept laughing. I'm like, where's your head right now? You're not helping me. He was like, yeah, no, I don't have anything big going on this week, you know?"
Each couple received three mulligans where the husband was able to use his wife's clubs to re-do a shot. Some of the wives were using rentals. Meagan brought her own set with senior flex shafts.
"So, you have a bunch of all the guys, these TOUR players, most of them are hitting ladies-shafted clubs," she said. "But Martin, every year I always laugh … He just makes it look so effortlessly. I mean almost snapped in half the club, but it's funny to see them play with (what is) not their equipment.
"And Josh Teater (when he hit), he's like, well I've got to take off my bib, I got to take off my glasses. I got to take off, like had to de-dress for him to hit his shot. I mean it was just so funny."
Not that the mulligans were always used judiciously, though. On one particular hole, Laird's group squandered four of the re-dos on a 12-foot putt to one of several holes cut about three times bigger than normal.
"So, we all hit our putts and the guys are like, 'Oh my God, how can you not make that?'" Meagan recalled. "And we wasted like four mulligans and like each of them tried once and then someone tried twice and none of us could make it — and that'd be the guys. And we all were like, I mean, I thought it was easy. Come on, come on we just wasted four mulligans and no one made it.
"The hole was huge. Josh is, like, everyone says, just think of the hole as being bigger. And he's like, I swear that makes it worse."
The theme for this year's tournament was the 1980s. Some of the guys wore neon-colored short one-piece jumpsuits that were "hilarious," Meagan said. There were mullet wigs and an '80s workout vibe to some costumes.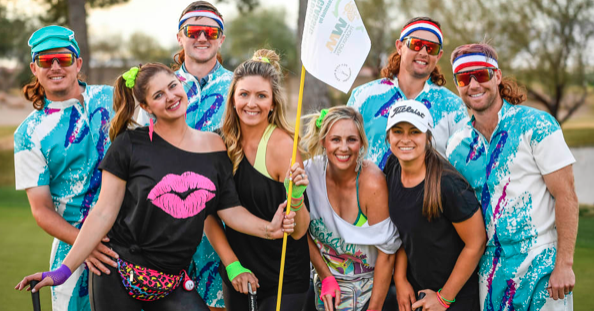 Laird's group paid homage to "Caddyshack," wearing jeans and some red t-shirts and hats that she found with the Bushwood Country Club logo.
"They don't wear a belt in the movie and (Martin's) like, my pants are falling off," Meagan said. "I mean it was, it was quite funny."
Meagan, who served three terms as vice president of community outreach and another as president of the PGATWA, grew up around golf. Her father was a teaching pro in Steamboat Springs, Colorado, and her mother handled merchandising for the pro shop. Her brother played golf at Wyoming.
While she was introduced to the game at a young age and remembers competing in tournaments as a child, Meagan gravitated to soccer and tennis as she got older. Two children under the age of 5 now keep her busy but golf remains a part of her life – and not just because it's what her husband does for a living.
"(It) is funny now because I actually genuinely like playing," Meagan said. "Like if Martin and I get a time to go out I genuinely enjoy it."
Particularly when he has to caddie, of course.