Teams Pack 2,000 Bags of Food at Third Annual Race to Feed Chicago
Story written by Katherine Morse, CAB member
Blessings in a Backpack's Chicago Associates Board (CAB) hosted its third annual Race to Feed Chicago on Thursday, May 2. This fundraiser is becoming quite the event of the season and continues to bring out supporters' competitive spirits. This year, 15 teams strategized to speedily pack thousands of bags of food to send to children in the Chicago area.
Thank you to the iO Theater for hosting a fantastic backdrop again and for catering a festive make-your-own taco bar! Tacos paired nicely with the cocktails courtesy of Constellation Brands and tasty desserts thanks to Specialty's. We are so grateful for our other fantastic event sponsors as well, including Kellogg's, Champion Foodservice, Riveron, EY, and In-Line Finishing Solutions.
Fred of KISS FM Chicago turned up the energy once again, doing a fantastic job narrating the play-by-play. Each heat of the race was full of excited packers vying to take home the honor of first place and some fantastic prizes thanks to Lettuce Entertain You Enterprise's gift card donations. These competitive moments were captured on camera thanks to WGN's coverage and Jen Uribe's photography.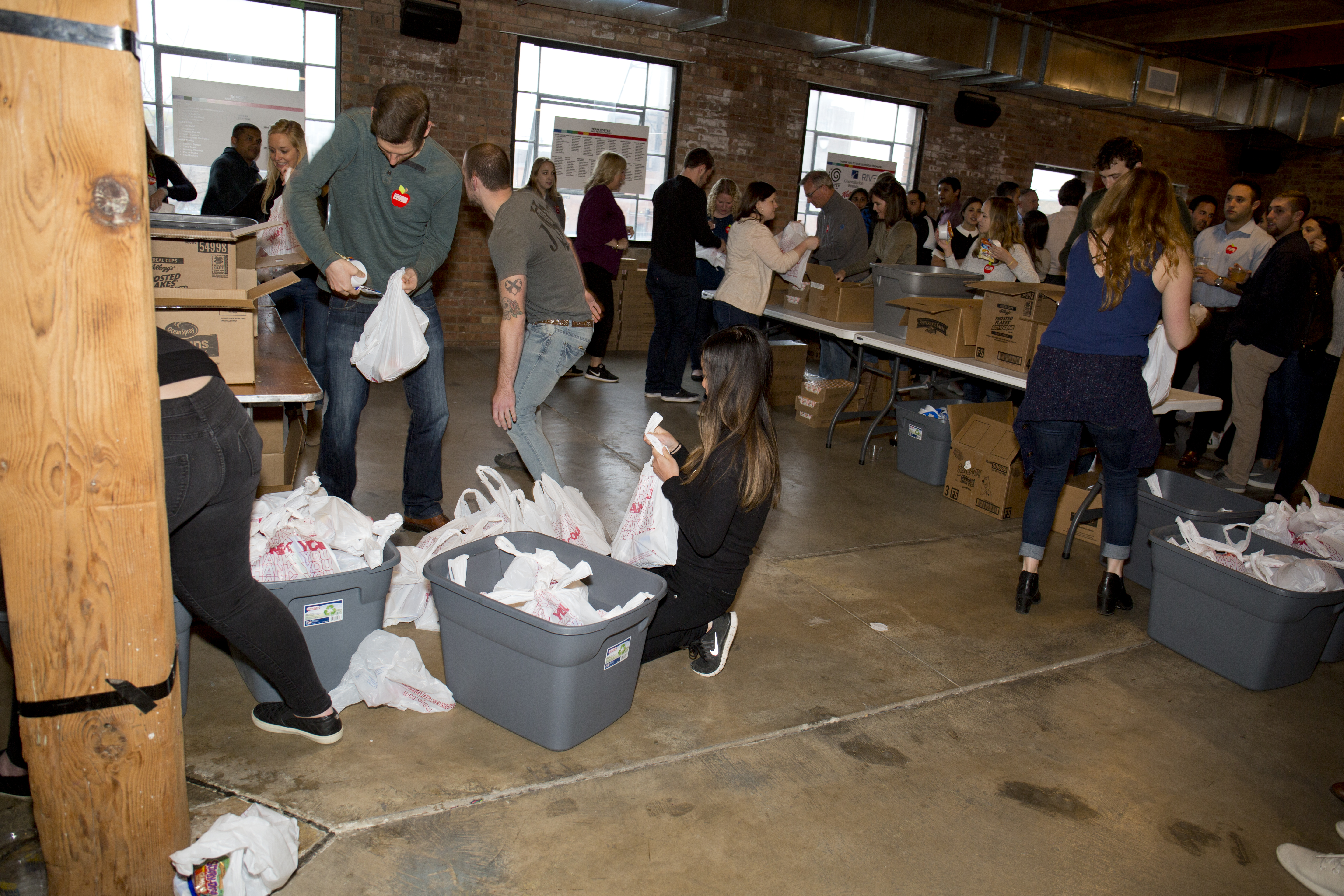 Over 150 guests were in attendance, packing 2,000 bags to provide nutrition for Chicago area children. The support was phenomenal, raising $8,000 across ticket sales, cash donations and sponsorship dollars which will all make a big impact in providing hunger-free weekends to these children.
Thank you again to our host, sponsors, donors, volunteers, competitors and attendees — we are incredibly appreciative of your generous support. The Race to Feed Chicago would not have been a success without you.
Until 2019! Who will take home first place next year?!