Second Annual Boerne 0.5k "Race" Brings in $46,000 for Local Blessings in a Backpack Program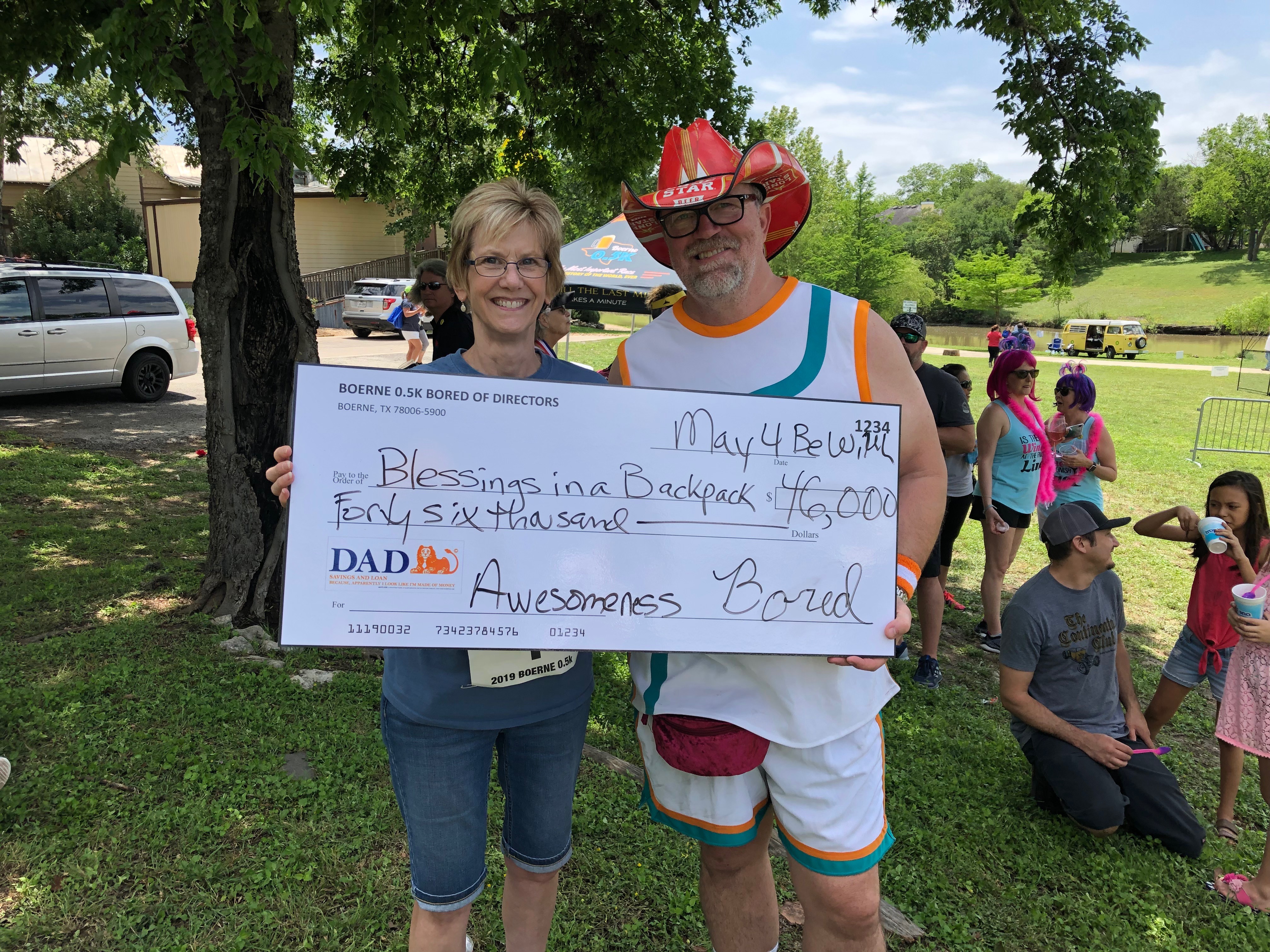 Self-proclaimed coach potatoes, slackers and underachievers certainly didn't disappoint when it came to the turn out for this year's second annual Boerne 0.5k "race." Six-hundred "runners" dressed in costumes, battled the "race" and obstacle course to raise funds for the local chapter of Blessings in a Backpack, and 300 others participated virtually, with their efforts yielding a grand total of $46,000. Organizers for last year's inaugural race set the fundraising bar at $2,500, but after news about the race went viral, ended up raising more than $30,000. Race organizers say this year's haul will have a huge impact on hungry kids.
"Our community is absolutely amazing, it's inspiring and humbling to see the enthusiasm people have for this event," said Jay Milton, race organizer. "Sure, people came out to have some fun, dress up and raise a little hell, but at the core is a community of people who came together to show support for kids in need and to help raise funds for Blessing in a Backpack."
Of course, the Boerne chapter of Blessings in a Backpack is very happy about the race's fundraising totals as well.
"We couldn't be more thrilled that Blessings in a Backpack was chosen as the race beneficiary!" said Kathy Bandujo, program coordinator, Blessings in a Backpack Boerne. "We're beyond grateful to Jay Milton and his fun, fabulous team of the Boerne 0.5K for their support. Not only is it a creative, fun, and downright hilarious event to be associated with, but it provides a substantial amount of our funding. We're blown away by the amount raised this year! Our local Blessings chapter has been in existence for six years and we're currently in all eleven schools in BISD, feeding over 400 students a week. The proceeds from the Boerne 0.5K ensure we can continue to serve these students and expand our program with the opening of two new schools this fall. Our goal is to make sure no child goes hungry on the weekends."
In addition to the funds, the second annual event also brought 400 jars of peanut butter donated by "racers"; the jars will be used to help fill backpacks to keep hunger at bay for students who suffer from food insecurity. For more information about the Boerne 0.5k, visit boernepoint5k.com.