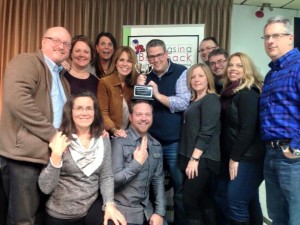 Blessings in a Backpack-Lake Orion hosted their 3rd Annual Trivia Night to a sold-out crowd of more than 300 people.
Blessings in a Backpack is aimed at raising money to provide food for those children in the community during the times they're not at school. The non-profit group sends food home in backpacks that feed them and their families. According to the national organization, it takes just $100 to provide a backpack and food to one child each weekend for an entire school year.
Thirty-one teams of 10 to 12 people contributed to the busiest Trivia Night since they started the event in 2014.
"We were overwhelmed with the excitement around the event and everyone's generosity," steering committee chair Kellie McDonald said. "Donations are still coming in but last year we raised $20,000 and it looks like we may have exceeded that amount this year."
Read more at clarkstonnews.com.