Blessings in a Backpack Partners With Unbridled Charitable Foundation To Host "Unbridled Afternoon" for Louisville Students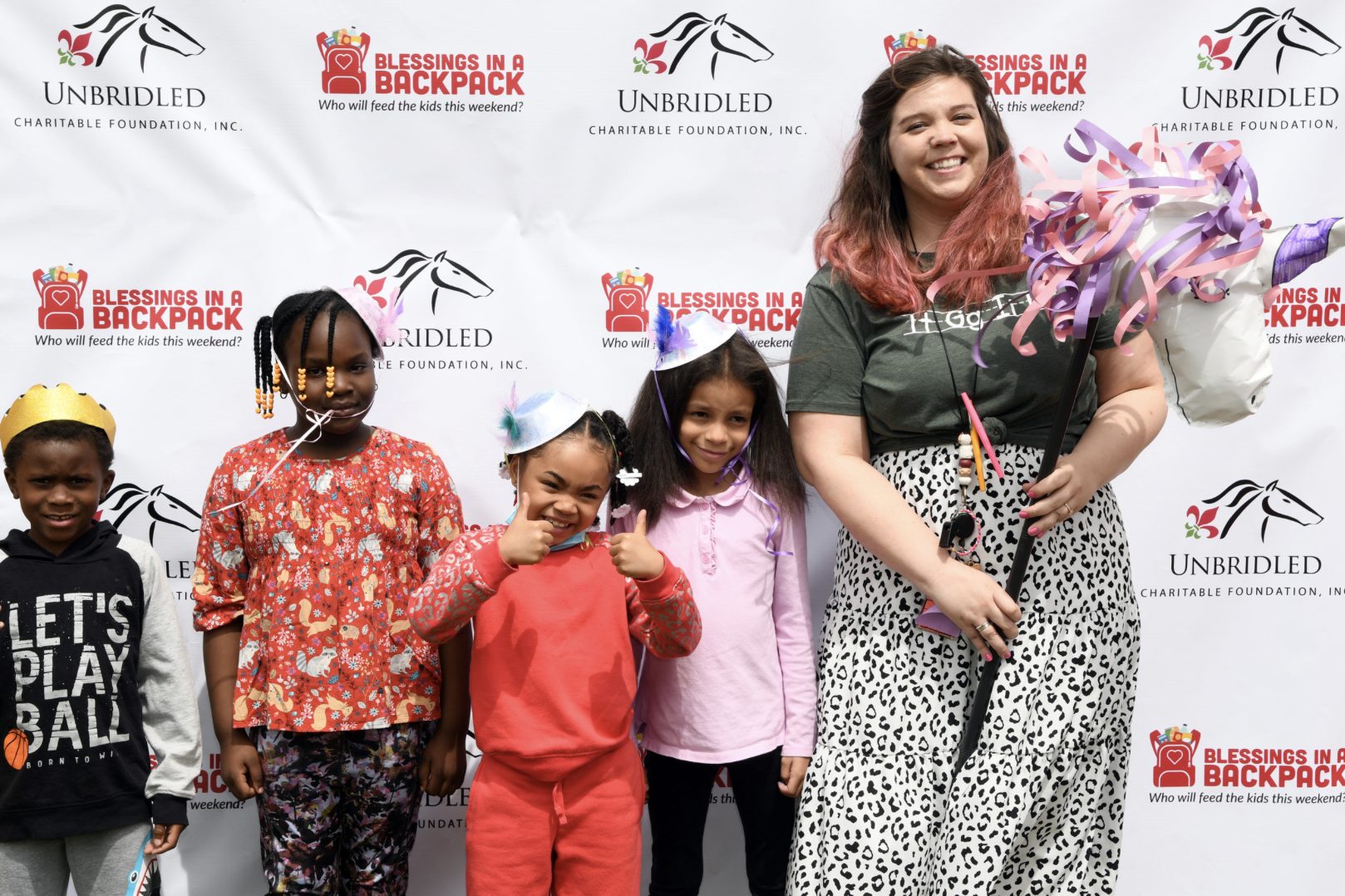 Blessings in a Backpack ­and the Unbridled Charitable Foundation partnered to create the first "Unbridled Afternoon" for the students at Engelhard Elementary School in Louisville, Kentucky. As an ode to the annual Unbridled Eve Gala that occurs the evening before the Kentucky Derby and fundraises to help several nonprofits, including Blessings in a Backpack, this kid-friendly event allowed students to experience their own Derby events—many of them for the first time. The two organizations plan to hold this event annually at different elementary schools in the Louisville area.
"This time of year is extremely special for our Louisville community, and we wanted to make sure everyone was feeling that excitement," said Nikki Grizzle, chief marketing officer of Blessings in a Backpack. "While our vision is centered around feeding children to provide them with the nourishment they need, having fun together is also a form of nourishment these students deserve. Thanks to the local community members who stepped up to help us ensure these students have the best time possible."
"Unbridled Afternoon" included a slew of Derby-related activities, starting on the morning of the event with Steve Buttleman, the official bugler of Churchill Downs and Keeneland, greeting the kids as they arrived at school and performing the "Call to Post" over the school's intercom system.
During the event in the afternoon, the students received the full celebrity treatment as if they were attending the actual Unbridled Eve Gala. They walked down a red carpet and posed for pictures taken by "paparazzi" and even got autographs from local celebrities attending the event.
Video: Fred Lee Reynolds, Part-Five Media
Celebrities in attendance included former University of Louisville (UofL) basketball player Akoy Agau, 2021 Kentucky Derby Festival Queen Gia Combs, country music star J.D. Shelburne, former UofL and NFL football player Mario Urrutia, Emmy award-winning journalist Monica Hardin, jockey Sophie Doyle, and former UofL basketball player Valerie Combs. The Kentucky Derby Festival Royal Court was also in attendance (Nancy Ngo (Queen), Haven Wolfe, Jimi Porter, Molly Sullivan and Sarah Rhodes) along with Tapper from the Louisville Water Company, Churchill Charlie from Churchill Downs, the RE/MAX balloon man and additional local mascots provided by the Louisville League of Mascots.
The students also had an opportunity to see a horse in a petting area, a hot air balloon up close from RE/MAX to symbolize the Balloon Glow, the Zoeller Pump Company's wrapped truck that will be participating in the Pegasus Parade, and cheered on their teachers who competed in a stick-horse race. Complimentary pizza for the students was provided by Papa John's Pizza. Each student received a commemorative certificate for attending the inaugural "Unbridled Afternoon."
One lucky teacher will win two tickets to the Unbridled Eve Gala courtesy of the Unbridled Eve Foundation and a $200 gift card from House of K Boutique to be styled for the gala.
"Blessings in a Backpack does such great work for our community and truly makes a difference in kids' lives each day, and we are proud to grow our partnership to create this inaugural event," said Tonya York Dees, co-founder of the Unbridled Charitable Foundation.
"We look forward to continuing 'Unbridled Afternoon' every year and spreading the joy and excitement of the Derby season across elementary schools in Louisville," said Tammy York Day, co-founder of the Unbridled Charitable Foundation Inc.
Ninety-eight percent of students at Engelhard Elementary depend on the Blessings in a Backpack program, and bags of food from Blessings in a Backpack have been given to Engelhard students for 10 years every school weekend.
This event was sponsored by Millennium Events, Papa John's Pizza, RE/MAX Properties East/Keren Benabou and Card My Yard East Louisville, Kentucky.