Tice Elementary School students get blessings, Vera Bradley backpacks and a day of fun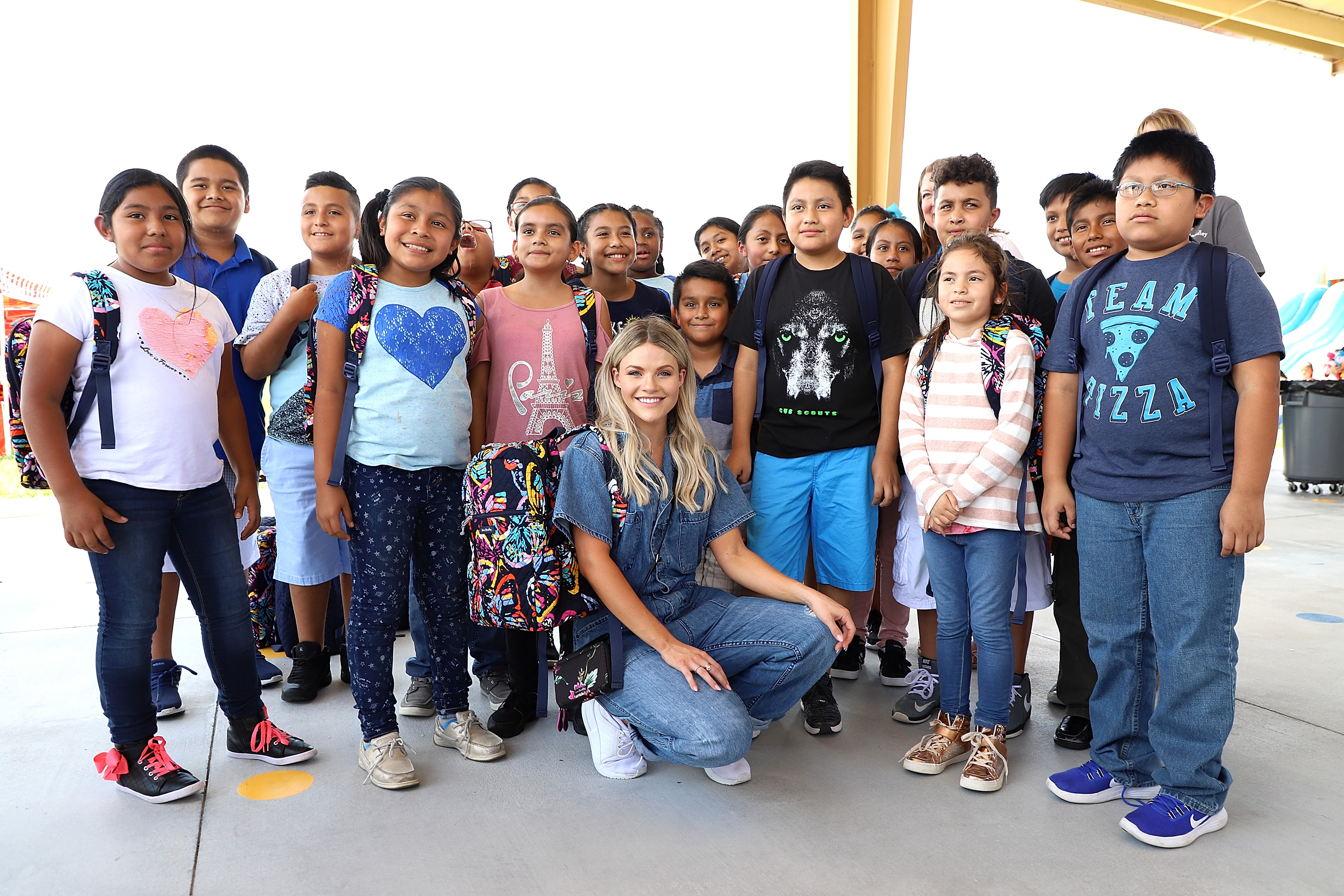 Story by Craig Handel, Fort Myers News-Press
Photos by Getty Images.
The smiles, laughter, curiosity, and screams wafted inside and out of Tice Elementary School on Monday.
Every student – about 600 – received Vera Bradley backpacks through Blessings in a Backpack, a non-profit organization that feeds school children in the United States who currently are fed during the week on the federally funded Free and Reduced Meal Program.
Vera Bradley is a national luggage and handbag design company famous for its quilted patterns. The Indiana-based company has partnered with Blessings in a Backpack to donate 25,000 backpacks to children in selected schools across the country. The children will use their backpacks to receive food for the weekends throughout the school year.
"They surprised us," said student Deidrick Russaw, 8. "Right in class. And they didn't tell us. Wooooaaaa."
The students also were treated to an outdoor carnival with games, cotton candy and popcorn.
"I can't wait to taste the cotton candy," Deidrick said.
Student Sidney McConnell, 7, had a big smile and said, "I like the design," while Jaylen Alejandro, 8, said, "It's comfortable, real strong fabric and sturdy texture.
"And if it rains and you have your computer in your bag, it'll still work," Deidrick added.
Deidrick may have to join Witney Carson as a commercial spokesperson. The "Dancing With The Stars" celebrity took part in the carnival and handed out backpacks and cotton candy while shooting hoops with the guys.
"They're really fun and so cute," Carson said. "And so grateful for the backpacks and having a good time. This has given me a new outlook on kids."
A melanoma cancer survivor, Carson said she's learned to enjoy the journey and not the destination and "Not think I'm invincible." Carson partners with Vera Bradley on various projects.
Principal Ronda Amaya said her staff enjoyed the day as much as the children. They received Vera Bradley swag, which included sunglasses, T-shirts, throws, cups and tote bags.
"It's like Christmas," one employee said.
Amaya said for 10 years Blessings in a Backpack has worked with Tice Elementary students. Because the majority of the families are at the poverty level, the non-profit has been a consistent help.
"We've never had an interruption, our need is so constant," Amaya said. "Some kids don't get out of the neighborhood because Mom and Dad work after dark. On weekends, they have to get their chores done."
As she looked around, Amaya watched the reactions.
"One boy, his eyes were as wide as saucers and his mouth was so big, it was like he was paralyzed," she said. "Another held his face, then bounced up and down.
"That's why this is such a great opener for our school."