ALEX AND ANI Carries Light for Childhood Hunger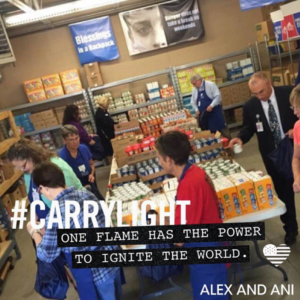 Humans are beings of light. It lives within us, limitless and indestructible. Every time we choose to use it, we create a positive wave. At Blessings in a Backpack, we CARRY LIGHT for 90,000 hungry children in the USA.
Last month, ALEX AND ANI launched #CARRYLIGHT, a global social media campaign to inspire and activate consumers with a sense of deeper purpose and broader community while also promoting its LIBERTY COPPER Collection.
The Collection features original copper preserved from the centennial restoration of the Statue of Liberty.  The Statue of Liberty inspires all to believe in limitless opportunity. She raises her torch to light the way for others, but her real light illuminates from within. Bearing her torch, we too brighten the world. We are Lady Liberty's movement of light and hope.
When we CARRY LIGHT, we ignite the light in others and create one light indivisible. What do you CARRY LIGHT for?
Share your response on social media with #CarryLight and be sure to shop ALEX AND ANI's Liberty Copper Collection.