People: Bills Fans Raise Money in Honor of Lamar Jackson After Ravens Quarterback Got Injured in Playoff Game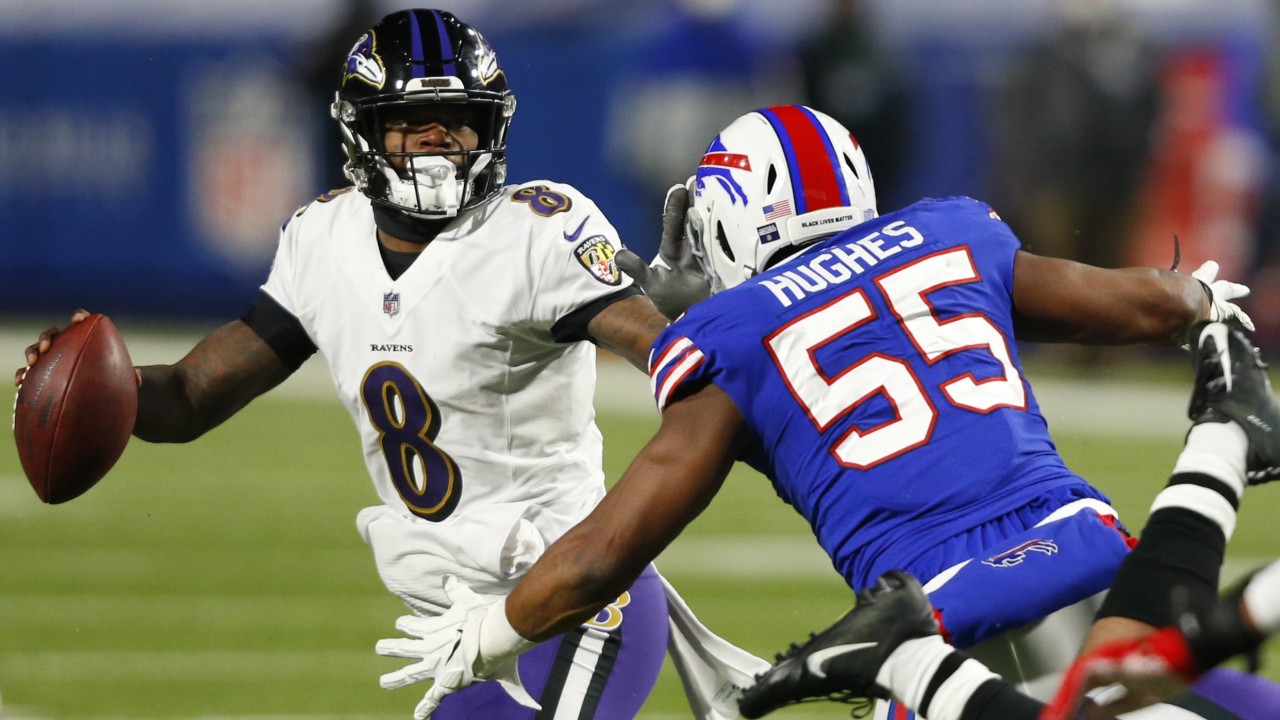 Following the Baltimore Ravens' loss, Buffalo Bills fans made donations in Lamar Jackson's name to his favorite charity
Story Maria Pasquini, People.com
Buffalo Bills fans are extending their generosity to a Baltimore Ravens star.
During Saturday's divisional playoff game, Ravens quarterback Lamar Jackson was forced to exit the game early after he was tackled and hit his head on the turf. After it was determined that Jackson had a concussion and would not be returning, the Bills tweeted out a message of support.
"Wishing @Lj_era8 a speedy recovery," the team, which went on to win 17-3, wrote.
Taking the goodwill one step further, after finding out about Jackson's favorite charity — the Louisville chapter of Blessings in a Backpack, which helps provide food for elementary school children in need — one Bills fan announced on Reddit that they would be making a donation to the charity in Jackson's name, and encouraged other members of the Bills Mafia to do the same.
Jackson, who went to college in Louisville, Kentucky, previously donated $25,000 to the organization back in 2018.
Within the first 12 hours, the non-profit said they had received close to $75,000 from around 2,500 Bills fans, according to WKBW-TV.
That number continued to grow throughout the day, and by Saturday afternoon, NFL Network's Ian Rapoport said the donations had surpassed $150,000.
According to one fan, in an extra special show of support, many members of the Bills Mafia are making $8 donations in honor of the number Jackson wears on the field.
"Thank you, @BuffaloBills fans for donating in honor of the @Lj_era8!" the charity wrote on Twitter.
And their generosity didn't stop there.
Fellow Ravens player Bradley Bozeman took to social media on Sunday to express his gratitude to the Bills fanbase, sharing they had also made donations to his foundation, The Bradley and Nikki Bozeman Foundation.
"Even though the game didn't go as I hoped last night, waking up to countless donations from #BillsMafia is such a blessing," he wrote. "We are so thankful to all the fans who have made such an impact this season!"
Last year, Bills fans previously made $1 million in donations on behalf of quarterback Josh Allen's late grandmother .
After fans first heard about Allen's loss in November, they quickly responded by making donations in her memory to a local children's hospital the athlete had long supported, with many choosing to donate $17 at a time, a nod to the quarterback's number.
In recognition of the tremendous outpouring of support, the John R. Oishei Children's Hospital launched the "Patricia Allen Fund," which will provide ongoing support to hospital patients, and also rebranded a wing of the hospital in her honor.
"I know my family is forever ingrained here, myself included," Allen said of fans' generosity. "I don't ever want to leave, obviously. I want to play here for as long as I can and give back to the community and give back to the Bills Mafia here."
Thanks to the team's big win, the Bills are headed to the AFC Championship for the first time since 1994. They will face off against the winner of Sunday's game between the Kansas City Chiefs and the Cleveland Browns.