Story via effinghamdailynews.com.
Blessings in a Backpack—Effingham, IL, is celebrating its fifth year feeding children in the Effingham community. To celebrate this special occasion they are planning an eventful week coinciding with the national observance of Blessings in a Backpack week, today through Friday, Sept. 29.
Students and teachers will be reading Maddie's Fridge in classrooms on Tuesday, Sept. 26.
On Wednesday, the organization will host a packing session where invited school teachers and administrators will pack bags for the 450 children to take home over the weekend.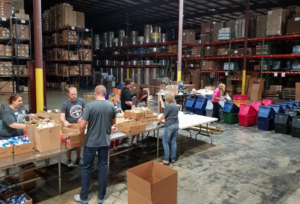 Thursday is Blessings in a Backpack day, as declared by Mayor Bloemker. At 4 p.m., the organization would like to invite all interested children and their parents or guardians to the Red Circle Pavilion at Evergreen Park in Effingham where a special guest will read the book Maddie's Fridge. After the book reading, everyone is invited to hunt for painted kindness rocks that will be placed around the park grounds. Prizes will be awarded to those that find special rocks celebrating Blessings in a Backpack.
Chair for Blessings in a Backpack, Amanda Emmerich, commented, "This program is a life-changer for many children in our community. Through the generosity of our local community we've been able to grow the program to feed as many children as we do today, which is truly humbling to achieve in just four short years. Our board enjoys celebrating Blessings in a Backpack week each year as it allows us all to celebrate with the community on how we're all making an impact on the children that experience food insecurity."
Blessings in a Backpack is introducing a Backpack Buddy system where local businesses can sign up to deliver totes of food to schools in the area for one month at a time. For more information about the organization, email effinghambackpack@gmail.com or view the Blessings in a Backpack–Effingham IL, page on Facebook. Those interested in becoming a Backpack Buddy and delivering totes to the schools may call 217-240-2012.