Mayors join local volunteers to pack backpacks full of food for children in-need on Blessings in a Backpack Day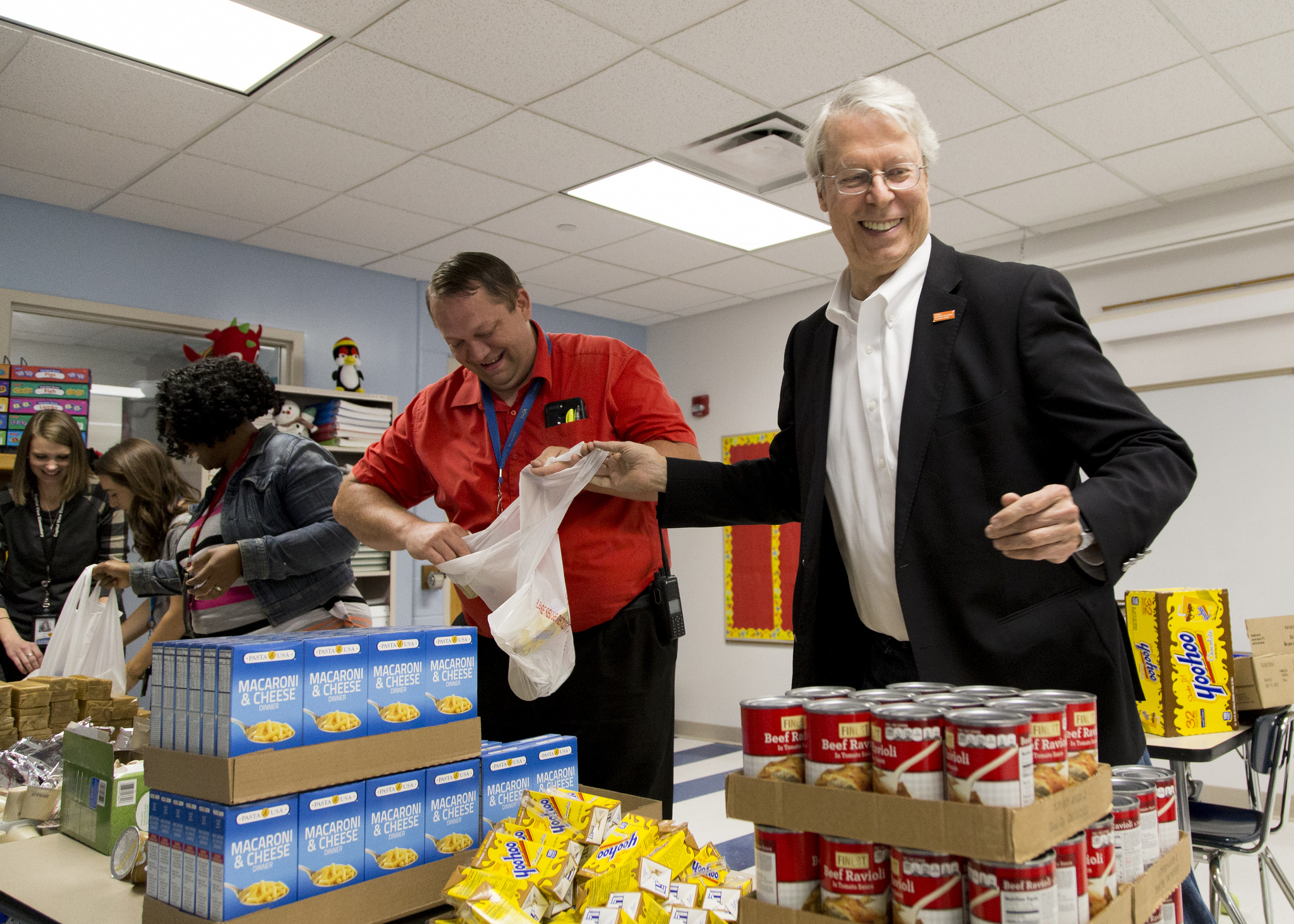 Feature photo: Des Moines Mayor Frank Cownie packs bags of food for local kids. Picture: Des Moines Public Schools. 
Mayors and government officials across the U.S. filled backpacks with food for students in their communities as a part of the fifth annual "Blessings in a Backpack Day." More than 75 city leaders joined forces with local Blessings in a Backpack volunteers to raise awareness about childhood hunger and provide hunger-free weekends for the children who need it most.
"All of our children deserve every opportunity to succeed and have a bright future, including ensuring that those who might otherwise go hungry when they're not at school have access to good, healthy meals over the weekend," said Denver Mayor Michael B. Hancock. "'Blessings in a Backpack Day" is one way we can lift up those kids and support their success and well-being, and I'm proud to support Blessings in a Backpack and their mission to ensure every child has access to enough food over the weekend."
More than 100 cities have participated in "Blessings in a Backpack Day" in partnership with Blessings in a Backpack — a national nonprofit that responds to the issue of weekend hunger by sending children home with backpacks full of satisfying and nutritional food on Fridays. After recognizing the day in 2014, Phoenix Mayor Greg Stanton and Green Bay Mayor James Schmitt sponsored and passed a permanent resolution at the 2015 annual U.S. Conference of Mayors meeting, declaring the third Thursday of September the annual celebration of "Blessings in a Backpack Day."
"Blessings in a Backpack is an important resource for children who may not receive nutritious meals [at home] during the weekend," said Mayor Schmitt. "Children who are well-fed thrive in school and their communities."
"Blessings in a Backpack looked at the problem [of childhood hunger] and said, 'What are we going to do about it?' They're helping our kids one meal at a time," said Louisville Mayor Greg Fischer. "We call ourselves the richest country in the world, but as long as we have a kid that is going home hungry, then we are not a wealthy country."
The National School Lunch Program provides free or reduced lunch for 22 million children at school during the week. That program serves as a vital source of food Monday through Friday, but many students return to school on Monday hungry because they do not have access to enough food over the weekend. This is where Blessings in a Backpack steps in.
This school year, Blessings in a Backpack will provide 3 million hunger-free weekends for more than 87,000 children in 45 states and the District of Columbia. "Blessings in a Backpack Day" is an annual opportunity for volunteers to work with local elected officials to highlight the hunger issues in their communities.
"No child should have to worry about when or where their next meal will come from. Our programs help fill an important gap for kids across the country, and I hope that inspired by today's events, even more will lend a hand," said Blessings in a Backpack CEO Brooke Wiseman. "Year after year, I'm encouraged by the dedicated community leaders and volunteers in cities across the country who step up to make a difference in the lives of children in their community."
On Friday, 55 mayors attending the U.S. Conference of Mayors Fall Leadership Meeting in Columbia, S.C., are filling bags full of food in support of "National Blessings in a Backpack Day."
The cities that participated in the 2018 "Blessings in a Backpack Day" include:
Atlantic Beach, Fla.
Austin, Texas
Baltimore, Md.
Bethlehem, Pa.
Bonita Springs, Fla.
Columbia, S.C.
Des Moines, Iowa
Denver, Co.
Effingham, Ill.
Ft. Wayne, Ind.
Frederick, Md.
Greater Rochester, Mich.
Guntersville, Ala.
Hampton, Va.
Houston, Texas
Jacksonville, Fla.
Jacksonville Beach, Fla.
Longwood, N.Y.
Louisville, Ky.
Neptune Beach, Fla.
New Albany, Ind.
New Orleans, La.
N. Reddington Beach, Fla.
Phoenix, Ariz.
Shively, Ky.
St. Augustine, Fla.
Stafford County, Va.
Syracuse, N.Y.
Troy, N.Y.
Tucson, Ariz.
Wabash, Ind.
Woodbridge, Va.