Dale Earnhardt Jr. raises $160,000 for hungry kids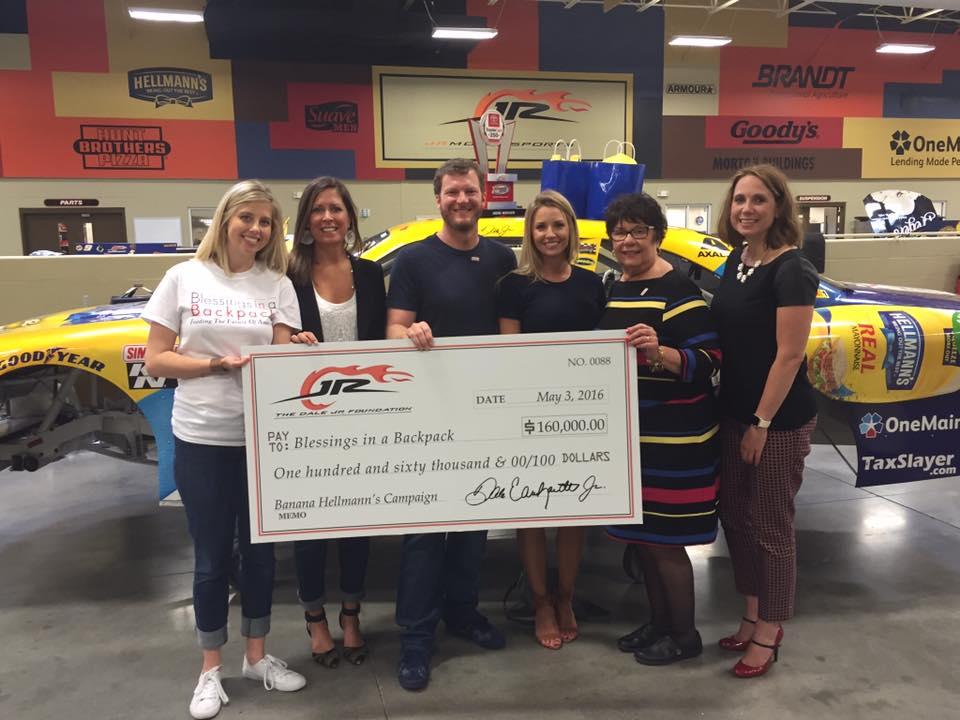 The internet went crazy when Dale Earnhardt Jr., a long-time supporter of Blessings in a Backpack, shared on Twitter that his favorite sandwich is mayonnaise and bananas on white bread. The NASCAR star channeled this buzz into a positive – encouraging his supporters to donate to Blessings in a Backpack — and committed to matching the donations up to $50,000. Hellmann's Mayonnaise got in on the action too, donating $50,000 of their own to benefit our programs.
The next thing you know, Bristol Motor Speedway and Richmond International Raceway sold the sandwiches with $1 of every sale going to Blessings in a Backpack. The Blessings in a Backpack logo was added to Dale Jr.'s car for the ToyotaCare 250 — a race that became Dale Jr.'s first NASCAR XFINITY Series win since 2010 and the first in his own JR Motorsports equipment.
On April 26, 2016, Earnhardt announced the results of the #DaleJrSandwich fundraiser.

With the money donated, Blessings in a Backpack will be able to provide 60,800 hunger-free weekends for children across the U.S. who are living with food insecurity. And whether you tried the banana and mayo sandwich or not, it proved to be a winning combination for a great cause!