Feeding Frederick: Volunteers pack 10,000 meals for FCPS students in need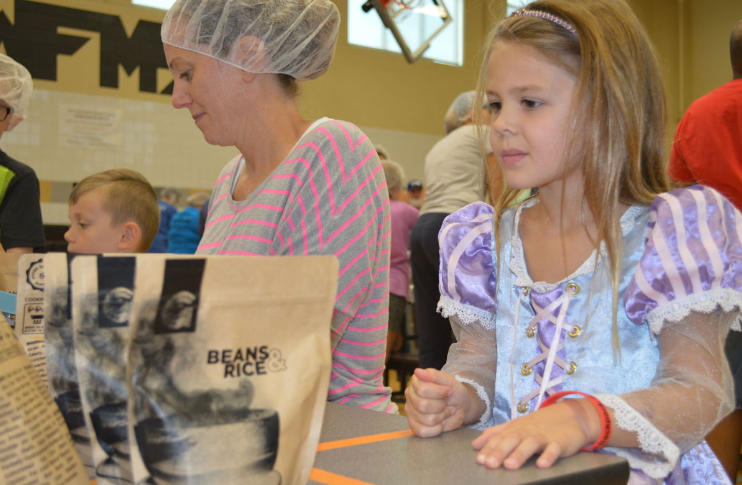 Story via fredericknewspost.com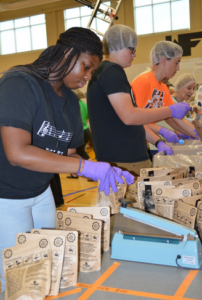 SaNae Ceaser never considered if her classmates at West Frederick Middle School went hungry.
"I didn't really used to notice that stuff," said Ceaser, a West Frederick graduate and rising junior at Frederick High School. "Now, I notice it a lot."
What she notices are students receiving free or reduced-price lunches, students for whom the school meals might be the only sustenance they get during the week. When school is out, on weekends and holidays, they might not eat at all.
Twenty-six percent of Frederick County Public Schools students qualified for the federal free and reduced meal program based on federal income guidelines in the 2016-17 academic year, according to the school district's website. At Frederick High School, 44.4 percent of students qualified the program. At West Frederick Middle, it was even higher: 52.7 percent of students.
Those startling statistics were the inspiration for a bulk meal-packing event that drew roughly 250 volunteers, including Ceaser, to West Frederick Middle's cafeteria Sunday morning. Clad in plastic hairnets and purple gloves, the group formed assembly-style lines as they concentrated on the task at hand: packing 10,000 meals in two hours.
The meals, bags of rice and beans coupled with concentrated beef and soup mix, would be given to FCPS students to fill the food gap on weekends and other times when school was not in session.
For 6-year-old Riley Arnold, it was also a chance to show off her counting prowess. Arnold stood at the end of one of the cafeteria tables, tallying the packaged meals before they were placed in a box.
"I can count to 100, easy peasy," she said.
Nearby her mother, Tracy Arnold, scooped a dried soup mix into the bags. She said the event was a great way to get her young children involved in service.
Laura Malec, who came with her daughter, agreed.
"Starting 'em young," she joked.
Malec added that it was sobering to learn just how prevalent food insecurity was among Frederick students, something she had not considered before.
Highlighting the relevance of hunger in the local community was part of the event's intentions, according to the Rev. Michael Bartlett, lead pastor of Collective Church and one of the event organizers.
Leading the service project was exactly the kind of thing Bartlett hoped the newly formed, alternative-style church would do more of as it officially opened later this month.
"We knew we wanted to be a church that was for this city," he said. "And child hunger is one of the main causes of strife and struggle in this city."
With that intention in mind, Bartlett paired with Generosity Feeds, a nationwide service organizations that helps local communities host bulk meal-packing events. The Sunday event at West Frederick Middle was the first Generosity Feeds event held in Frederick, according to Stefani Klabunde, co-founder of Generosity Feeds.
The food for the meals was purchased with money raised by Collective Church, according to Bartlett. The $10,000 total included individual donations as well as those from area businesses and other service agencies such as United Way of Frederick County and MOD Pizza, he said.
An additional 3,000 meals were given by a Hunt Valley-based service agency, he said.
Most of the combined 13,000 meals would be donated to the Frederick chapter of Blessings in a Backpack, while others would go to West Frederick Middle, which is not one of the schools that receives weekend meals for students through Blessings.
Tracey Wedge, who serves as FCPS community liaison for West Frederick Middle, said she was confident the meals donated to her school would not go to waste.
"There is a real need here, especially for kids who are coming to school hungry," she said.
And as the stack of cardboard boxes piled by the stage grew larger, so did the smile on Hermine Bernstein's face. Bernstein serves as program coordinator for the Frederick Blessings chapter.
"This is remarkable," she said. "It stretches our money so we can feed more kids."