Generous donation doubles number of children who will receive weekly Blessings in a Backpack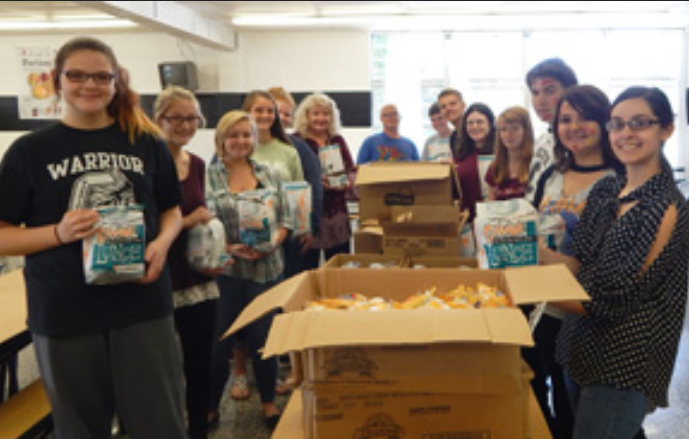 Story via freepressstandard.com.
An $8,000 donation will allow nearly 300 school age children to participate in the "Blessing in a Backpack" program.
Carrollton Schools cafeteria was working under a grant from the Carroll County Health Department, preparing 146 backpacks each week. The grant ended Sept. 30.
Utica East Midstream, LLC, presented the donation asking for the funds to be used during the 2017-18 school year. A letter from an area manager stated, "Given there are 40 weeks between school and holiday breaks, we are asking $200 be used weekly."
Barb Burns, cafeteria supervisor and a registered dietician, explained the donation will allow almost double the amount of children to participate.
Blessings in a Backpack is designed to provide non-perishable food every Friday to identified school children who would benefit from supplemental nourishment over the weekend.
Each Thursday, members of the Caring, Helping and Sharing (CHS) Club pack disposable bags with two entrée items, two breakfast items and two healthy snacks. Burns orders the food, and with having the specific amount to spend, will be able to add additional food to the bag most weeks.
A typical bag would contain: a juice box, can of ravioli, nachos with a cheese cup, a blueberry muffin, package of pop tarts, a bag of potato chips and a bagel with strawberry jam.
Other menu items include: breakfast bars, single serving cereal bowls, granola bars, soups, canned meat, meat sticks, canned or fresh fruit, animal crackers, pudding cups, applesauce, etc.
Parents had an option to apply to join the program since income guidelines apply.
"We work like a well-oiled machine," Belinda Mach, CHS Club advisor, stated. "The students know what to do and they do it. Once the bags are done, they deliver them to the classrooms."
Teachers then distribute the bags Friday.
Debbie Albright, a member of the Coalition for a Drug-Free Carroll County, volunteered to pick up the bags and deliver them to Dellroy Elementary. Augusta bags are picked up by a teacher or Principal Darrin Abel on their way to school.
"We are honored to receive these funds and to partner with Midstream to help our local families," Burns said. "This company is out of Houston, TX, where so many of their neighbors have been impacted by severe weather issues. This generous company chose to help us here in Carroll County too!"