Gamecock Football Team Gives Back to First Coast Kids Ahead of Gator Bowl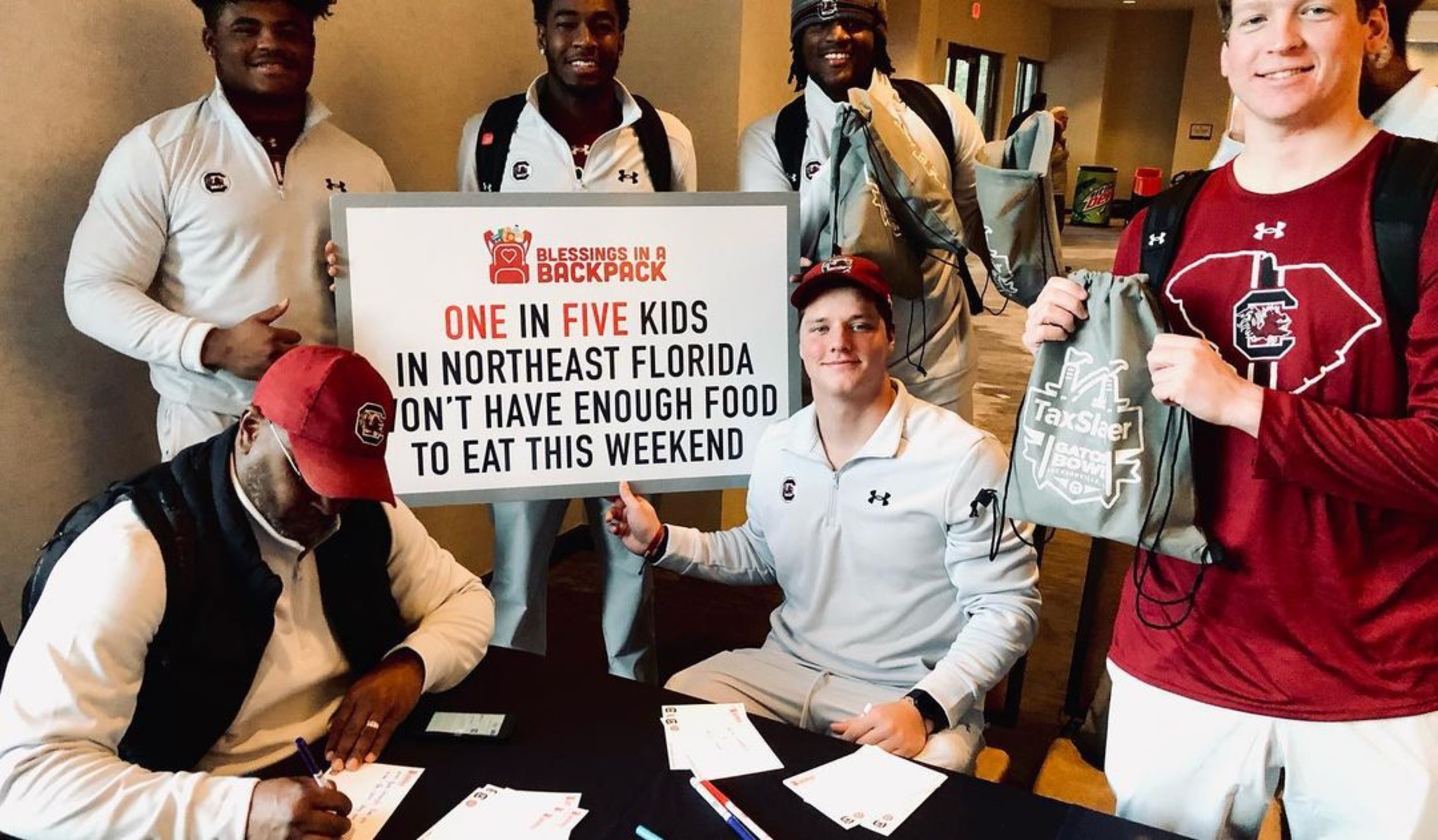 Story by by Matt Dowell, wach.com.
The South Carolina football team is in Jacksonville, Florida, preparing for the TaxSlayer Gator Bowl. While the Gamecocks are looking to walk away with a Gator Bowl win, the week isn't all about football.
On December 27, the Gamecocks took part in a Blessings in a Backpack service event, benefiting the First Coast Chapter. The event will help hundreds of local children living with food insecurity.
Giving back to children in need has been one of the biggest focal points of the TaxSlayer Gator Bowl every year. This time, it was South Carolina's turn to bring joy and hope to hundreds of kids lives.
"South Carolina packed 500 bags today. Notre Dame will pack 500 tomorrow. That's 1,000 kids we've touched on the First Coast," Katie Cox, marketing vice president of the TaxSlayer Gator Bowl, said.
The goal of "Blessings in a Backpack" is to make sure no child goes hungry on the weekends. The organization's leaders said the Gamecocks being part of it brings a whole new element to this service.
"They depend on their school Monday through Friday for food. They leave on Friday, they may not eat again (until the next Monday)," Susan Evans, managing director of Blessings in a Backpack First Coast Chapter, said. "When these guys come here and take time out of this very busy, very important week, to make sure these kids have something healthy to eat… it's a very meaningful impact."
Tuesday's event had a little something extra as well, Each Gamecock hand wrote a personal letter for each bag with the hopes of bringing happiness to some who might be struggling.
"To a little child opening a bag of food and saying 'This huge football player from Carolina made me this card that says I can do it,' it just instills a lot of belief and compassion. It's just a beautiful thing," Evans added.
Blessings in a Backpack had all hands on deck… serving as a reminder that this week is about much more than a football game.
"I think it just allows people to see that bowls are more than just this one day event at the end of the year that's just football fans come in and leave. It's a lasting impact year round," Cox said.