Denver Mayor Hancock Kicks-Off Blessings in a Backpack Program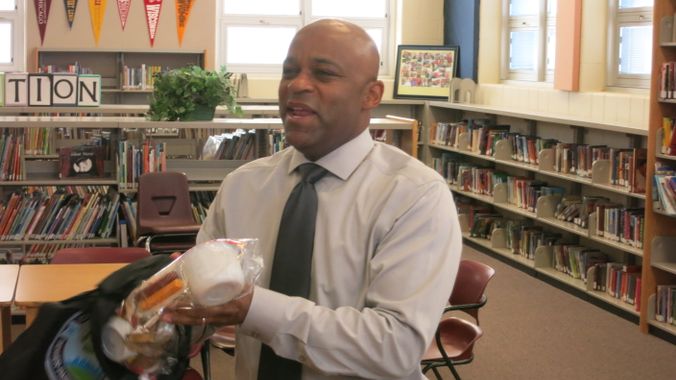 Story by Donna Bryson, denverite.com.
After filling backpacks with crackers, cheese, breakfast cereal and other food for hungry kids in the library Friday, Mayor Michael Hancock walked down to the Omar D. Blair Charter School's cafeteria and shared a memory of hardship.
Describing his family's financial struggles, Hancock told dozens of children gathered for the special assembly in the Green Valley Ranch school: "I would come to school and I would sit in class and I couldn't wait for lunch to happen because I was so hungry."
The mayor partnered with local donors and Blessings in a Backpack to bring to the DPS school a program that ensures children who receive free and reduced lunch during the week also have something to eat over the weekend. Every Friday starting with the day Hancock visited, food packs will be slipped into the bags of about two dozen students whom school officials identified as most in need.
Hancock said it was key to be discreet about who is getting help so that needy children aren't stigmatized. But he said it also was important for adults to talk about the problem.
"We need to recognize that there are a lot of hungry kids in our schools," he told Denverite.
Blessings in a Backpack works in 46 states to bring attention to the issue and to share its model as part of the solution. The nonprofit estimates 13 million American children don't have enough to eat on weekends and notes that not only does hunger make it hard for children to concentrate and succeed in school, it can have long-term health consequences.
The Colorado Children's Campaign found that one in seven children live in households that experienced food insecurity between 2014 and 2016. It added in the most recent of its annual accountings of the state of Colorado kids that 67 percent of school-age children in Denver qualify for free and reduced lunch, a measure of poverty in a community, compared to about 42 percent of all the state's children.
Blair Principal Kristen Williams said her school has seen its percentage of children eligible for free and reduced lunch increase from 30 to 70 since 2009. Like many teachers, she kept extra snacks in her classroom before she moved into administration. Now she keeps the snacks in her office.
Kevin W. Beam, the chief financial officer for Blessings in a Backpack, visited Blair with Hancock on Friday. Blair said his organization helped connect volunteers at the K-8 school that also serves Montbello with Sysco Denver, which is donating food for the backpacks. Blessings also has a relationship at the national level with the food services company.
Blessings projects reach more than 87,000 school children across the country, Beam said. Corporations sometimes come to Blessings to start such programs locally. So do parents. For Blair, it was a former parent – Hancock's children once attended the school named for the first black president of Denver's school board. Blair, who served on the board from 1973 to 1985 and as its president from 1977 to 1981, died in 2004.
Williams said when she got the call from Hancock's office, "I was extremely surprised and I was extremely honored that our school was thought of."
Similar programs not affiliated with Blessings operate in Denver schools. Beam said Blessings first arrived in Colorado last year and now works with Oakland Elementary as well as Blair in Denver; four schools in Aurora; two in Lakewood; and one in Littleton.
After his speech and taking questions from the Blair students on issues ranging from his budget to his pets, Hancock bade them farewell with another personal note.
"I was blessed to … have met and know Omar Blair," he said. "He would have been so proud of you all. He would have called you his babies."
Click here to learn how you can help Mayor Hancock feed the kids on the weekends in Denver.