St. Louis Sports Commission Announces Recipients of the 2021 Musial Awards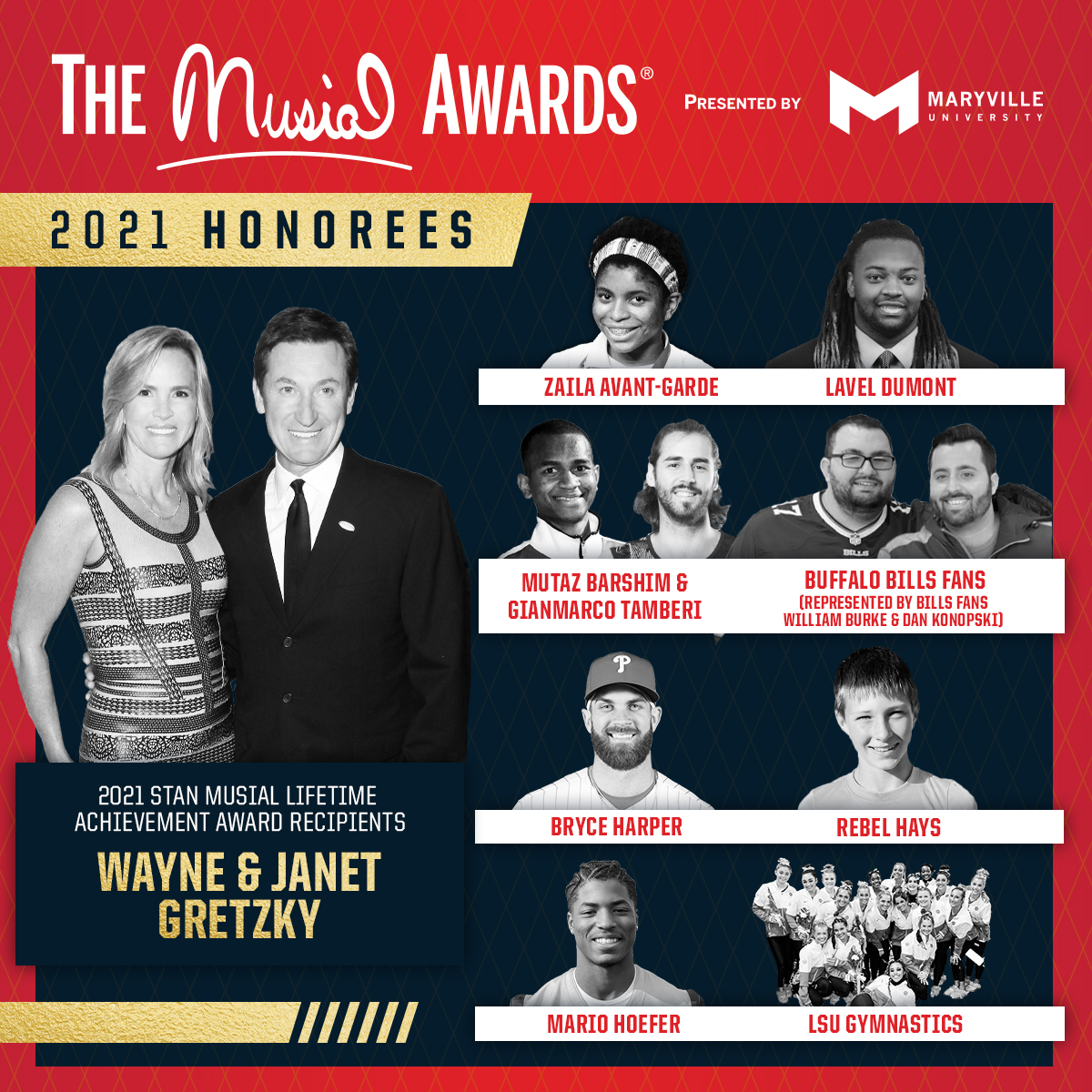 Buffalo Bills fans among those joining Wayne and Janet Gretzky to be honored in St. Louis November 20 at nationally televised event celebrating sportsmanship in America

The Musial Awards presented by Maryville University celebrate the year's greatest moments of sportsmanship and those in sports who embody class and character. The national event is named for St. Louis Cardinals legend Stan Musial, a beloved baseball superstar and civic icon who was the ultimate good sport. This year's show returns to Stifel Theatre in Downtown St. Louis and will be packaged into a one-hour special that airs throughout the country on CBS on Christmas Day at 5 p.m. ET / 4 p.m. CT.
Buffalo Bills Fans, represented by William Burke and Dan Konopski, will receive a 2021 Musial Award:
Late in the third quarter of the Baltimore-Buffalo AFC playoff game in January, Ravens QB Lamar Jackson was knocked to the ground and forced to leave the game. Although advantageous for Buffalo, Jackson's exit didn't sit well with a pair of Bills fans. Out of respect for their opponent and feeling bad about his injury, William Burke and Dan Konopski – two Bills fans who didn't know each other – took to social media to encourage the team's fan base to donate $8 (Jackson's uniform number) to Blessings in a Backpack, a Louisville-based charity Jackson is associated with. The charity helps feed elementary school students across the nation. A few days later, 18,450 individual donations in Jackson's honor had been made and more than $550,000 raised.
Click here to read all the recipients of this year's Musial Awards at musialawards.com.